Daryl's story
Degenerative scoliosis with flatback deformity
Two-phase surgery restores proper spine alignment
Through it all, through surgeries and injections and more than a decade of debilitating pain in his back, Daryl has learned a lot about the curvature of the spine.
"I'll tell you what, the shape of my spine looks pristine now," Daryl said. "It's like, 'Wow, he wasn't kidding.' It looks brand spanking new."
Only a couple of months before, Daryl had undergone a two-stage surgery to rebuild his spine and restore its normal shape. Dr. Michael Kachmann, a neurosurgeon at Mayfield Brain & Spine, corrected the degenerative scoliosis that had his lower spine looking straight where it was supposed to curve, and leaving him hunched over at the shoulders. Today, the hardware securing his spine runs from the middle of his chest down to his hips.
Scoliosis is a sideways curvature of the spine that often appears in children. Daryl also suffered from kyphosis, an excessive rounding of the upper spine.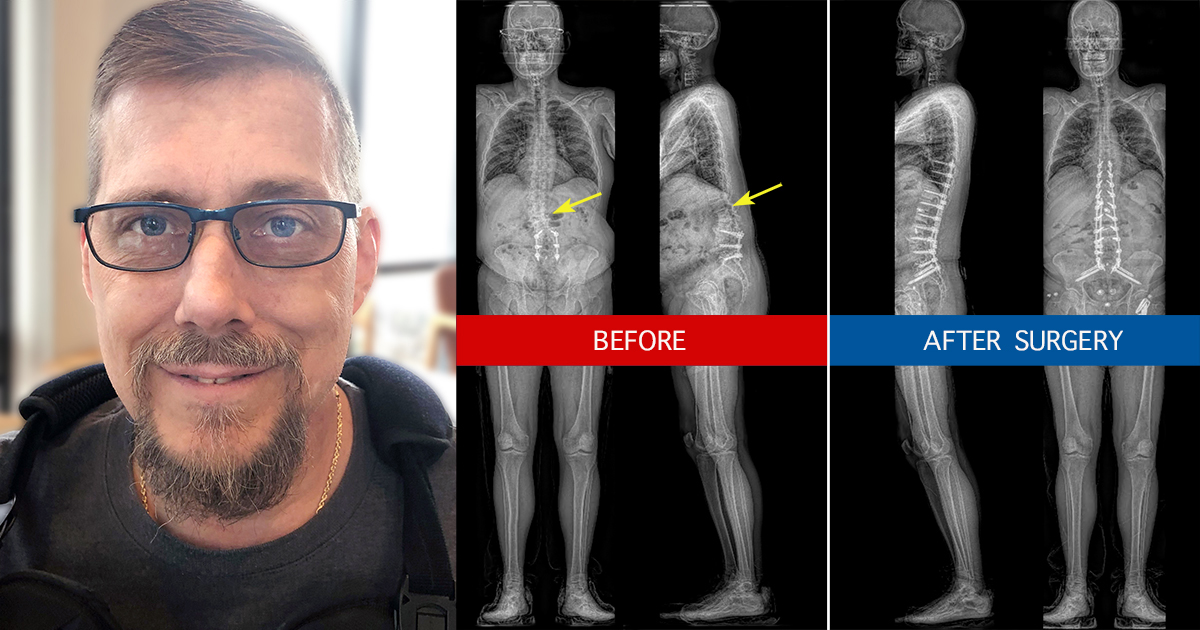 "He was just walking with his head way out in front of the pelvis," Dr. Kachmann said of Daryl's kyphosis. "This was painful and put incredible strain on his spine. You just can't walk that way."
Dr. Kachmann works with fellow neurosurgeon Dr. Zachary Tempel as part of Mayfield's scoliosis and spinal deformity team. Over two procedures spanning three days in April 2023, they helped restore the natural curve in the lower spine and straightened out the upper spine.
The procedure started with a lateral lumbar interbody fusion, or LLIF, to restore alignment in Daryl's spine between the L2 and L4 levels. The next day, Mayfield took some standing images of Daryl to assess the level of correction. On the third day, Dr. Kachmann and Dr. Tempel followed with a major procedure that reconstructed from the T9 level all the way down to his pelvis.
That left Daryl with nearly 30 rods and screws anchoring his spine – but no pain.
"It was unbelievable, immediate relief," he said. "I wholeheartedly believe that I'm fixed."
Long road to recovery
Daryl's back problems started in 1999, when a car slammed into the rear of his car on Interstate 75. He didn't even go to the hospital, but the next morning, he had difficulty walking. He had spine surgeries in 2000 and 2011 with other providers to address specific problems, although neither addressed the larger issue of the unnatural curvature of his spine.
"I've been in pain since 2011," he said.
By 2016, Daryl required injections to control the pain. He consulted with Mayfield neurosurgeon Dr. Tann Nichols, and in 2022, Dr. Nichols removed a herniated disc from Daryl's neck and fused two vertebrae together. But the more comprehensive spine issues needed correction, so Dr. Nichols referred Daryl to Mayfield's team focused on scoliosis and spinal deformity for evaluation. That's when Dr. Kachmann first showed Daryl an image of his spine.
"I knew it was bad, just how I felt," he recalled. "There was no way it was minor. I had no idea it was that bad."
Scoliosis affects 2-3 percent of the population, but Dr. Kachmann said few cases are as severe as Daryl's. He said whole-body images showed degeneration above the levels of one of the previous surgeries, which distorted the curvature of the entire spine.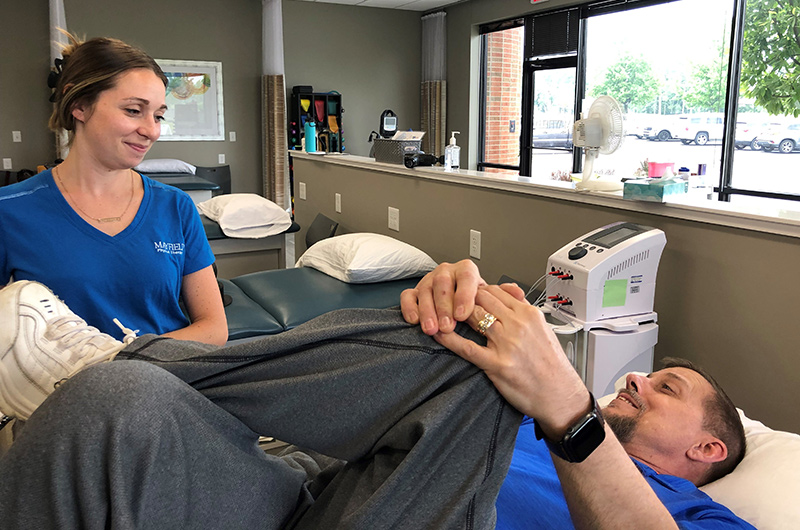 Daryl working his way back with Mayfield's PT team
"At the point where Daryl was, repairing the damage at a specific level of the spine did not address the overall challenge he was facing," Dr. Kachmann said. "Only a comprehensive multi-level surgery would get to the root of his symptoms and provide real relief. We recommended the surgery to Daryl, and he has been diligent in taking the necessary steps that will enhance his recovery."
Mayfield's expertise in surgery to correct scoliosis and spinal deformity is built on decades of experience and research on the latest tools and techniques. In addition to Dr. Kachmann and Dr. Tempel, the team includes Dr. Robert Bohinski, Dr. William Tobler, Dr. Brad Curt, Dr. Randy Hlubek, Dr. Bryan Krueger and Dr. Zach Plummer.
Patients understand that full recovery can take up to a year, and it is important that they stop smoking before the surgery to promote better healing. Tests before surgery include a myelogram, when a special dye is inserted into the spinal canal to help understand the bony anatomy of the spine in three dimensions; a specialized CT scan and standing X-rays to document the spine's stability and how the curve is changing over time; and a bone mineral density test. Patients also work with physical medicine and rehabilitation specialists, called physiatrists, to help patients manage symptoms before surgery.
Performing the surgery over two days, as with Daryl, minimizes blood loss and reduces the length of time a patient spends under anesthesia.
Today, Daryl said he feels some pain from the surgery, but nothing other than that. He continues with physical therapy at Mayfield's Northern Kentucky office, and is optimistic that his recovery is on track.
"Dr. Kachmann tells me just to take it slow and steady," he said. "I have a whole lot of muscles to rebuild, and I can tell that has started."
~ Cliff Peale
Hope Story Disclaimer -"Daryl's Story" is about one patient's health-care experience. Please bear in mind that because every patient is unique, individual patients may respond to treatment in different ways. Results are influenced by many factors and may vary from patient to patient.