Physician spotlight: Dr. Marc Orlando
Marc Orlando, MD, is an interventional specialist with board certification in physical medicine and rehabilitation (PM&R) and is Division Director of PM&R for Mayfield Brain & Spine. Also known as a physiatrist, he helps patients overcome pain, usually without surgery. Although the pain he treats most often originates in the spine, he also helps patients who suffer debilitating musculoskeletal pain or neuropathic pain conditions.
A highly sought-after specialist, Dr. Orlando performs about 5,000 spine procedures a year and has treated more than 65,000 patients with fluoroscopically guided procedures during his career.
The key to helping patients with pain, he says, is "to listen, to trust in the patient, and to believe in the patient and put yourself in his or her shoes."
Dr. Orlando helps patients age 16 and over in a variety of ways. He specializes in interventional spinal treatments and therapies, including transforaminal epidural steroid injections, spinal cord stimulator placement, and facet injections, as well as nerve blocks and radiofrequency (RFA) procedures. Dr. Orlando performs joint injections with steroids and trigger point injections, and he prescribes medications, therapeutic exercise programs, acupuncture, braces, traction, and chiropractic care.
"The goal is to keep people moving," he says. "Some of my biggest rewards involve helping a person who is devastated by pain and not a surgical candidate get back to the workforce and day-to-day activities."
Dr. Orlando's patients include a young police officer who ruptured a disc in his back while jumping over a desk during training; a 16-year-old field hockey player who suffered a freak ankle injury that left her with intractable pain; a woman in her 80s who is not a candidate for surgery but who receives an epidural shot every 4 to 6 months so that she can function; and the patient with spine scoliosis who can't have surgery but whose pain management enables her to hold her job and remain active with her grandchildren.
Dr. Orlando developed an interest in healthcare from his mother, a nurse, and the father, a doctor, of one of his best friends.
After high school he enrolled at Bowling Green State University and ran track with plans to become an athletic trainer. As he moved through his coursework, always at or near the top of his class, he qualified for one of 24 coveted spots in a physical therapy program that was conducted jointly by the University of Toledo and the Medical College of Ohio. He graduated magna cum laude and went to work for two years as a physical therapist and as an assistant trainer for his high school football team in Poland, Ohio.
Then, at the encouragement of his godfather, Dr. Orlando took another look at his career and the possibility of a future in medicine. After taking an additional science course and the MCAT exam, he applied to the University of Cincinnati College of Medicine and was accepted. He remained at UC after graduation, performing his residency in a five-year program that combined internal medicine and physical medicine and rehabilitation. Dr. Orlando went into private practice with Group Health Associates in 1998, becoming their first rehabilitation specialist.
During his lifelong commitment to medical education, Dr. Orlando served as an adjunct professor at UC and continues to mentor medical students through his Tri-Health affiliations. He has been voted a "Top Doctor" in pain management and physical medicine & rehabilitation by his peers in Cincinnati Magazine's annual survey since 2007, and he has been listed by the Consumers' Research Council of America in its Guide to America's Top Physicians since 2010.
---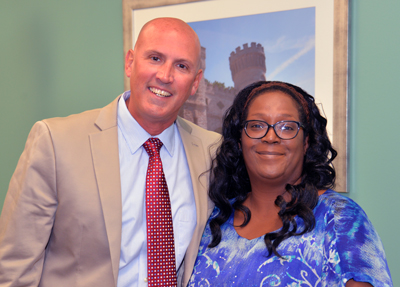 Dr. Orlando and his patient, Anisa, recently discussed paresthesia-free spinal cord stimulation with the LOCAL 12 news team.