Mayfield Brain & Spine neurosurgeons to start serving patients at new Anderson Township office
CINCINNATI – Mayfield Brain & Spine continues to add services at its new office in Anderson Township, bringing the full range of neurosurgical care to patients on the east side of Greater Cincinnati.
Located at 7661 Beechmont Ave., the office opened February 20 with physical therapy services. In late March, nurse practitioner Jody Beckington started seeing patients each Wednesday.
Neurosurgeon Dr. William Tobler will start taking appointments on Tuesday, April 11. On Tuesday, April 18, Dr. Vincent DiNapoli will take his first clinic at the Anderson office. Appointments with Dr. Randall Hlubek will start Thursday, May 4. All three neurosurgeons are supplementing their existing patient clinics at Mayfield's Rookwood office, starting with one day each month at Anderson. Mayfield expects to add a neurosurgeon dedicated to the Anderson office later this year.
Mayfield already is planning to increase the physical therapy teams serving patients at Anderson, and it could add additional providers, services or clinic hours in the location, depending on patient demand. The expansions in the new office highlight Mayfield's commitment to serving patients when and where they need care.
"We have a significant number of current patients who will find the Anderson Township location more accessible and convenient, and we believe it will help us serve new patients as well," said Mark Vorherr, chief executive officer. "By collaborating with the region's leading health systems, we offer care closer to where patients live and work."
To make an appointment for physical therapy, call 513-569-5220. To make an appointment with Mayfield physicians or other providers, call 513-221-1100 or visit MayfieldClinic.com.
---
Founded in 1937, Mayfield Brain & Spine is a nationally known independent neurosurgery practice, with 20 neurosurgeons and five rehabilitation or interventional pain physicians. Neurosurgeons see patients at five offices and perform surgeries at nearly all of the region's leading health systems, treating brain tumors, spinal deformity, strokes and a variety of other disorders of the brain and spine. With about 260 total associates, Mayfield served more than 29,000 patients from more than 40 states in 2022. Mayfield also was named one of the region's "Best Places to Work" in 2022 in a competition sponsored by the Cincinnati Business Courier.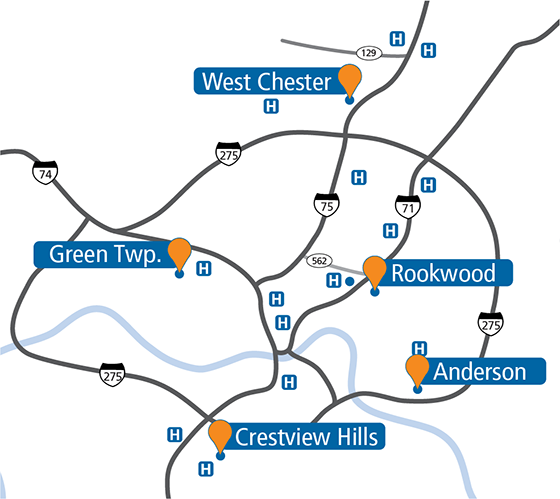 Mayfield has locations in Anderson, Norwood, West Chester, Crestview Hills and Green Township.
---
April 10, 2023
FOR IMMEDIATE RELEASE
CONTACTS:
Cliff Peale
Communications Department
cpeale@mayfieldclinic.com
513-569-5236