Mayfield among First in U.S. to Offer Senza® Omnia™ Spinal Cord Stimulation System to Treat Chronic Pain
CINCINNATI - Specialists at Mayfield Brain & Spine continue to play a leading role in the evolution of spinal cord stimulation (SCS) devices that treat chronic pain syndromes. Most recently they were among the first in the United States to offer the next-generation Senza® Omnia™ Spinal Cord Stimulation System for the treatment of patients who suffer chronic pain in the lower limbs or back.
The Omnia system was recently approved by the U.S. Food and Drug Administration (FDA) and is the first and only spinal cord stimulation system designed to deliver Nevro's proprietary HF10® therapy and many other available frequencies. By providing multiple frequency options in one system, the Omnia system maximizes the potential to personalize the delivery of pain relief to individual patients
The Omnia system battery is designed to last ten or more years, even with continuous 10 kHz settings.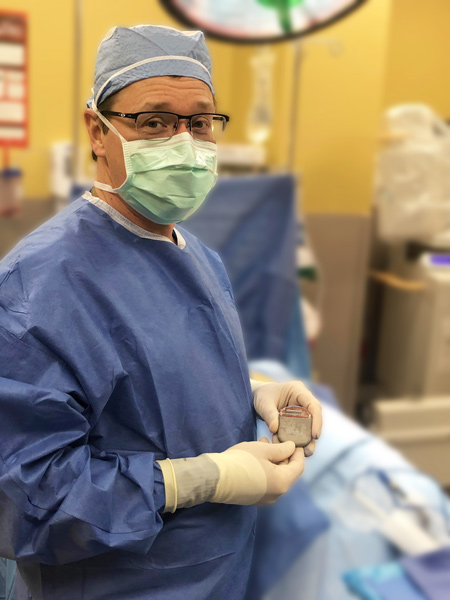 George Mandybur, MD, a Mayfield neurosurgeon, first implanted the Omnia system at the Mayfield Spine Surgery Center in mid-September 2019. Marc Orlando, MD, a Mayfield specialist in physical medicine and rehabilitation, performed the stimulator trial six weeks earlier.
"Chronic pain often requires versatility to manage effectively," says Dr. Mandybur. "With the introduction of Omnia into our practice, we can now offer patients the proven advantages of HF10 therapy while still having access to most other SCS frequencies."
More than 50 million Americans suffer from common chronic pain conditions, which can significantly interfere with quality of life. Chronic pain is the most common reason for physician visits and the primary cause of adult disability. A costly public health issue, the combined loss of productivity and healthcare costs related to chronic pain exceeds $560 billion annually in the United States.
There are a variety of treatment options for chronic pain that range from medications to surgical interventions.
"Spinal cord stimulation as a potential treatment option is especially relevant today, as we confront an opioid crisis that has led to tragic levels of addiction and loss of life," Dr. Mandybur says. "Spinal cord stimulation can lessen patients' need for pain medications while enabling them to work, exercise, and engage in social activities, which improve mood and quality of life."
Spinal cord stimulation involves the delivery of electrical signals to the spinal cord in order to alter pain signals to the brain. The electrical pulses are delivered by small electrodes on leads that are placed near the spinal cord and are connected to a compact, battery-powered generator implanted under the skin. Spinal cord stimulation is a reversible therapy that has helped hundreds of thousands of people experience relief from chronic pain.
Other spinal cord stimulation systems on the market are limited to a frequency below 2,000 hertz. Omnia delivers the widest range of frequencies of any such system, between 2 and 10,000 hertz. In addition to HF10 therapy, which delivers stimulation without the tingling, burning, or prickling sensations known as paresthesia, the Senza® Omnia™ system offers the most waveforms in a single product and can be programmed to provide waveforms independently or paired with HF10. The pairing of waveforms across frequency ranges enables first-of-kind dual mechanisms of action.
---
Mayfield Brain & Spine is the full-service patient care provider of the Mayfield Clinic, one of the nation's leading physician organizations for neurosurgical treatment, education, and research. With more than 30 specialists in neurosurgery, interventional neuroradiology, physical medicine and rehabilitation, pain management, and physical therapy, Mayfield Brain & Spine treats 25,000 patients from 30 states in a typical year. Mayfield physicians specialize in the treatment of back and neck pain, sciatica, Parkinson's disease, essential tremor, NPH, epilepsy, brain and spinal tumors, stroke, moyamoya, brain aneurysms, Chiari malformation, scoliosis, kyphosis, facial pain, facial twitch, trauma, concussion, spinal cord injury, and carpal tunnel syndrome. As leading innovators in their field, Mayfield physicians have pioneered surgical procedures and instrumentation that have revolutionized the medical art of neurosurgery for spinal diseases and disorders, brain tumors, and neurovascular diseases and disorders.
---
Nevro, founded in 2006, is a medical device company headquartered in Redwood City, California. Omnia, HF10, the HF10 logo, Nevro, and the Nevro logo are trademarks of Nevro Corp.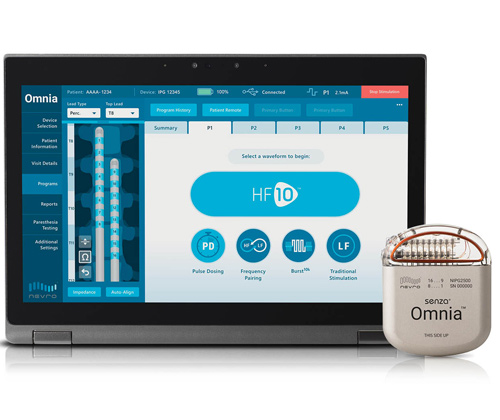 The Omnia system battery is designed to last ten or more years, even with continuous 10 kHz settings.
---
---