Mayfield neurosurgeon first in Ohio to implant directional-controlled stimulator system for essential tremor
CINCINNATI -- A Mayfield Brain & Spine neurosurgeon has performed Ohio's first implantation of a new deep brain stimulation (DBS) device designed to maximize benefits and minimize unwanted side effects in patients who are treated for Parkinson's disease or essential tremor. George Mandybur, MD, a specialist in movement disorders and epilepsy surgery, performed the procedure in December at the University of Cincinnati Medical Center in collaboration with the James J. and Joan A. Gardner Center for Parkinson's Disease and Movement Disorders, a division of the UC Gardner Neuroscience Institute.
The patient, a 56-year-old Bainbridge, Ohio, woman named Jane, is doing well. Jane, who requested that her last name not be used, had suffered from essential tremor in her left arm for more than 20 years. Simple tasks like writing her name and lifting a glass of water to her lips had become a challenge. Since her surgery, she says, her handwriting is "100 times better."

The new technology, the Infinity DBS System, is an advanced treatment option developed by St. Jude Medical that allows the surgeon to steer electrical current to areas of the brain. It was approved by the Food and Drug Administration (FDA) for the treatment of Parkinson's disease and essential tremor in October 2016.

DBS surgery involves the implantation of electrodes deep within the brain. The electrodes, connected to a stimulator device that resembles a pacemaker, deliver electric pulses to regulate brain activity. DBS can reduce symptoms of tremor, slowness of movement, and stiffness in patients with Parkinson's and essential tremor. At the same time, traditionally designed electrodes have caused negative side effects in some patients.
The Infinity system is designed to allow doctors to tailor treatment and reduce side effects by "steering" electrical pulses to different parts of the brain. The Infinity's directional lead, with segmented contacts, is the first of its kind to receive FDA approval.
"Normally, DBS electrodes have four cylinders at the end," Dr. Mandybur explains. "When the current is turned on, it is activated in all directions (360 degrees). The St. Jude directional lead, by comparison, has two center cylinders that are divided into three parts. Each part is independent and can be turned on and off independently.
"We can still activate the current in all directions, but we also can bias the current in a particular direction. This is beneficial in situations where the electrode is near neurons or fibers that, when activated, produce a side effect, such as a speech problem, too much tingling, or a loss of coordination or balance. In these situations, we can turn off the 360-degree activation, steer the current away from the problematic neurons, and hopefully get better tremor control."
Not every patient needs this option, Dr. Mandybur says. "But it gives you an advantage in case you need it. It's a nice option to have." The Infinity system is compatible with Apple mobile devices, which can be used to control the current via a Bluetooth connection. A doctor or nurse practitioner can program the device with an Apple iPad mini, and patients can control the device's output with an iPod touch.
---
Mayfield Brain & Spine is the full-service patient care provider of the Mayfield Clinic, one of the nation's leading physician organizations for neurosurgical treatment, education, and research. With more than 20 specialists in neurosurgery, interventional neuroradiology, physical medicine and rehabilitation, and pain management, Mayfield Brain & Spine treats 25,000 patients from 35 states and 13 countries in a typical year. Mayfield physicians specialize in the treatment of back and neck pain, sciatica, Parkinson's disease, essential tremor, NPH, epilepsy, brain and spinal tumors, stroke, moyamoya, brain aneurysms, Chiari malformation, scoliosis, kyphosis, facial pain, facial twitch, trauma, concussion, spinal cord injury, and carpal tunnel. As leading innovators in their field, Mayfield physicians have pioneered surgical procedures and instrumentation that have revolutionized the medical art of neurosurgery for spinal diseases and disorders, brain tumors, and neurovascular diseases and disorders.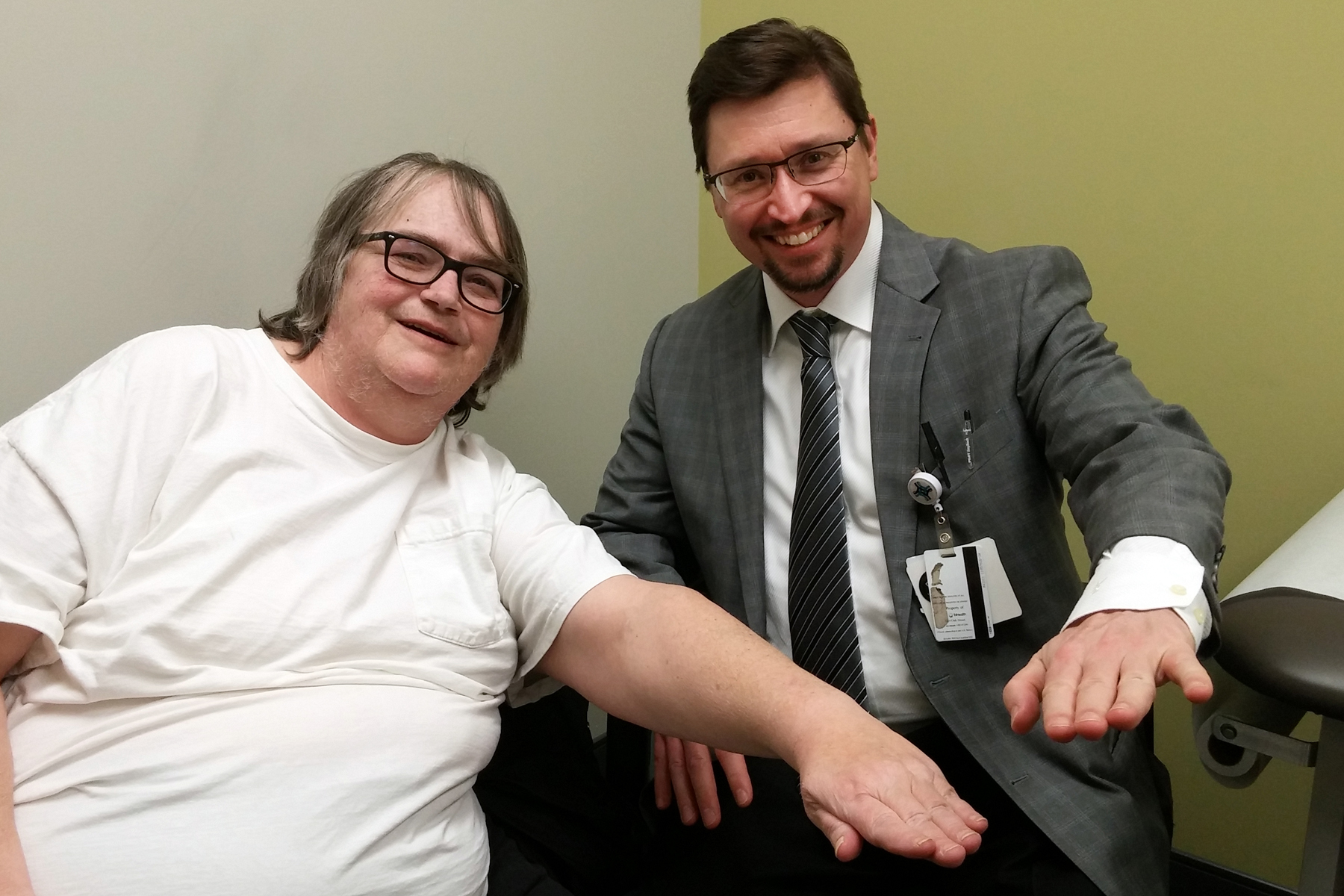 Jane and Dr. George Mandybur demonstrate their steady hands. "Today is like Christmas for you," Dr. Mandybur told her.