Robert's story
Ruptured disc
Sometimes, even heroes need someone to come to their rescue. That was the case for Robert, a veteran firefighter who for years had battled ruptured spinal discs as well as fires. When 15 years of back pain and ice packs finally gave way to a persistent limp and numbness in one of his toes, he found his way to the Mayfield Clinic and the office of Michael Kachmann, MD.
Dr. Kachmann performed an outpatient discectomy and had Robert back on the job two weeks later.

"Within two weeks I was pain free with no more limp, no more numbness in the extremity, and no more back pain," Robert says. "I remember bending over to pick something up, without thinking, and I suddenly realized that I hadn't been able to do that in a year."
Robert was helping his team put out a fire 15 years ago when the trouble began. As a card-carrying Type A personality – Robert knows "only a few firefighters who aren't Type A personalities" – Robert gritted his teeth and kept going. When the pain got bad enough, he lived off over-the-counter pain medications and used an ice pack or heating pad at night. That worked up until the spring of 2015.
"I was at the airport on my way to a training program in Alabama, and I had my computer backpack with me," he says. "After going through security and putting my shoes back on, I bent over to pick up my computer bag. The bag wasn't heavy, but my back just gave out. I ended up on the ground. I got up, but the pain was incredible."
Committed to attending the training program, Robert got on the plane and gutted it out. Toward the end of the week, he could barely walk. He made it through airport ticketing in a wheelchair, limped into his house, and promptly made an appointment with a chiropractor. But neither the chiropractor nor subsequent physical therapy helped.
After his primary care physician recommended surgery, Robert saw a spine surgeon and then sought a second opinion. "I had heard about the Mayfield Clinic," he says.
Mayfield's Marc Orlando, MD, a physical medicine and rehabilitation specialist, started Robert off with an epidural spinal injection, then repeated the procedure two weeks later. When the epidurals failed to provide lasting relief, Dr. Orlando referred Robert to Dr. Kachmann. What happened next Robert will never forget.
"He came into the office and he talked to me for 15 to 20 minutes," Robert recalls. "Only after he was finished talking to me did he go look at my medical records. That was very impressive to me. I was not a medical record to him. I was a patient. He established a connection with me.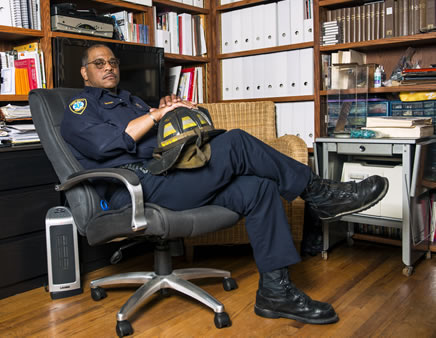 "He concurred with the first surgeon I had seen, but I was so impressed with Dr. Kachmann that I decided to stay with him. His willingness to establish a relationship with me … his bedside manner … I believe this helped in my recovery."
Dr. Kachmann performed Robert's surgery at the Mayfield Spine Surgery Center. "His surgery was a simple L4-5 discectomy," Dr. Kachmann recalls. "I made a small one-inch incision and removed the disc fragment compressing his nerve. The surgery took less than one hour, and he went home an hour after surgery.
"I remember Robert well," Dr. Kachmann adds with a smile. "He refused a wheelchair and walked out on his own – with no leg pain of course."
Robert rested at home for two weeks, then returned to work on a "light-duty" rotation, which included walking each and every floor – and descending all flights of stairs – during inspections of high-rise buildings. Robert also performed back-strengthening exercises and underwent physical therapy at Mayfield's Rookwood Exchange office. Dr. Kachmann soon cleared him to return to full-time work.
"Ever since the surgery, I have been extolling the virtues of the Mayfield Clinic and Dr. Kachmann," Robert says.
"From the physical therapists, to the insurance handlers, to the medical assistant, to Dr. Kachmann: everyone I dealt with at Mayfield has been wonderful."
Hope Story Disclaimer -"Robert's Story" is about one patient's health-care experience. Please bear in mind that because every patient is unique, individual patients may respond to treatment in different ways. Results are influenced by many factors and may vary from patient to patient.
Related links:
Physician spotlight: Dr. Michael Kachmann