Physician spotlight: Michael W. Robinson, MD, PhD
Treating complex brain disorders the focus for newest Mayfield neurosurgeon
That one classmate in high school who actually liked organic chemistry? It was Dr. Michael Robinson.
That early interest at Sycamore High School extended to medical school and a doctoral program at the University of Toledo, where Dr. Robinson collaborated with several colleagues on a novel method to kill cancerous cells in glioblastoma brain tumors. The group patented the discovery in 2015.
"I found a lab working on a brain cancer project, and I came in with the chemistry background," Dr. Robinson said. "I wanted to do cancer research that would enable me to use chemistry. It was good timing and a great combination of interests. And ultimately, it led me to neurosurgery."
Dr. Robinson's commitment to research that helps patients will be a defining feature of his medical practice, which started August 14 when he became Mayfield's newest neurosurgeon. He specializes in treatment and diagnosis of neurovascular disorders, including strokes, brain aneurysms and arteriovenous malformations (AVMs), as well as brain tumors. He plans to integrate some of his research to study, diagnose and treat complex brain disorders.
Dr. Robinson with wife Brittany and their son
He will see patients at Mayfield's Norwood office and perform surgeries at The Jewish Hospital-Mercy Health, Good Samaritan Hospital, Bethesda North Hospital and the Mayfield Spine Surgery Center.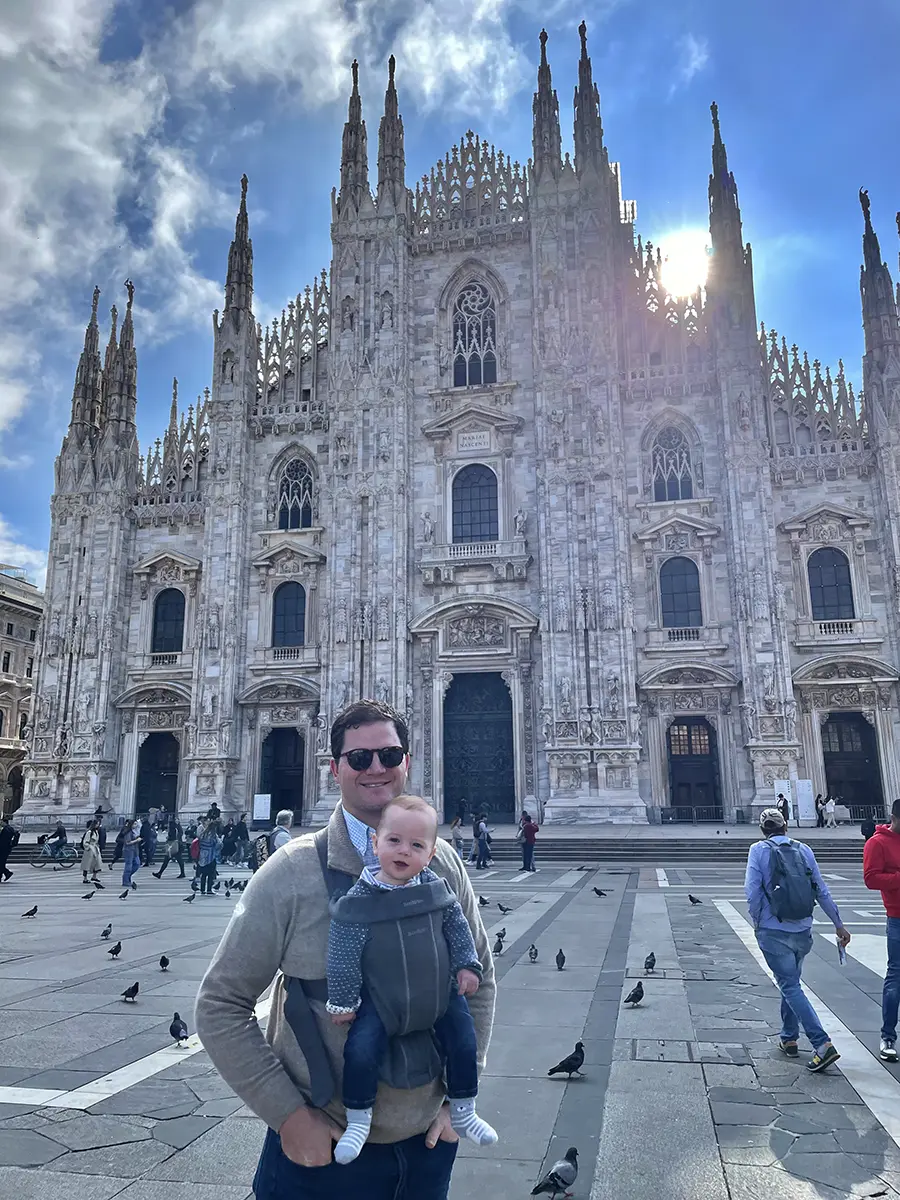 Dr. Robinson with son
Raised in Blue Ash, Dr. Robinson played football and lacrosse in high school and played lacrosse at Denison University in Granville, Ohio – where his interest in chemistry and research continued to grow. He developed an appreciation for a career in medicine from his father, a retired pediatrician. He remained active in athletics in medical school, coaching high school lacrosse and playing flag football. He and his wife Brittany, who works in finance, have enjoyed traveling, particularly to Italy. Now, they have a one-year-old son and a baby girl coming soon, so their love of travel has taken a back seat in recent months.
While the Robinson family has a small putting green in the back yard of their home in Hyde Park, exercise for Dr. Robinson is mostly in high-intensity Orange Theory fitness training – where he doesn't hold back.
"I'm still pretty sore from the workout this morning," he said.
"Mike goes 110% on everything," Brittany Robinson added. "Seeing people who did that early in his career is something he respected."
Returning home to Cincinnati for his residency in neurosurgery at the University of Cincinnati College of Medicine was Dr. Robinson's first up-close look at Mayfield Brain & Spine. He was impressed with the technical excellence and dedication to clinical cases from the Mayfield neurosurgeons, and he became more and more determined to join the group.
"That's certainly a big reason I came back to Cincinnati," he said. "I used to joke that I considered my residency a seven-year job interview."
Dr. Robinson later completed a fellowship in endovascular neurosurgery at the Baptist Medical Center in Jacksonville, Fla., before starting at Mayfield.
He said Mayfield's team of neurovascular specialists is breaking new ground, both in surgical technique and patient services such as an early-alert system that uses an artificial intelligence algorithm to identify stroke victims.
The work we're doing is really quite new for patients," he said. "It's so exciting to be part of a field that has so much room to grow."