Physician spotlight: Andrew Ringer, MD
Andrew Ringer, MD, is a neurosurgeon with Mayfield Brain & Spine, Chief of Neurosciences for TriHealth, and Director of the Division of Neurosurgery at Good Samaritan Hospital. He is chairman of Mayfield's Board of Directors and a board member of the Mayfield Education & Research Foundation.
Dr. Ringer is dedicated to treating patients with neurovascular disease and to finding new neurosurgical techniques for the treatment of aneurysms, arteriovenous malformations, carotid artery disease, and stroke. He has served on the Medical Advisory Board of The Brain Aneurysm Foundation since 2013.
Since joining Mayfield in 2001, Dr. Ringer has exemplified the values of our organization, including honesty, integrity, compassion, and skill. During that time he has completed more than 8,000 surgical and endovascular cases and has developed a national reputation in endovascular neurosurgery. He has authored or co-authored 24 book chapters, 86 journal articles, and 17 abstracts. He is editor of a physicians' reference book, Intracranial Aneurysms, published in 2018 by Academic Press. While a faculty member at the University of Cincinnati from 2001 to 2017, he trained 22 medical residents and 21 post-graduate fellows. He served as Director of the Division of Cerebrovascular Surgery from 2010 to 2017.
As a co-founder of the Endovascular Neurosurgery Research Group, a national research consortium, Dr. Ringer has long been at the forefront of clinical research in the use of endovascular approaches to diagnosing and treating cerebrovascular disease. Dr. Ringer was part of several research studies that paved the way for the development of procedures that use sophisticated clot retrievers navigated through arteries into the brain to effectively treat patients with bulky, life-threatening blood clots. These large clots, which are difficult or impossible to dissolve with medication, may account for as many as half of the 630,000 ischemic strokes suffered by Americans each year.
A member of the Alpha Omega Alpha Medical Honor Society, he was among the rising young professionals included in the Cincinnati Business Courier's Forty under 40 Class of 2003 and has been included in the "Best Doctors" issue of Cincinnati Magazine every year since 2007.
Dr. Ringer graduated from Cornell University in Ithaca, NY, and received his medical degree from the University of Illinois at Chicago. He completed his residency in neurosurgery at the University of Cincinnati and earned a fellowship in endovascular neurosurgery from the State University of New York at Buffalo.
Known as "Andy" to his friends, Dr. Ringer served as a Cub Scout den leader and a youth hockey coach for many years. He worked as a volunteer in New Orleans following Hurricane Katrina in 2005 and 2006, and he has served half a dozen times in the Haiti Medical Relief Mission through the Armstrong Chapel United Methodist Church. He has been a Habitat for Humanity volunteer with his church since 2011, and he is a member of the Greater Cincinnati United Way's Tocqueville Society. In February 2018, he was named a Health Care Heroes winner in the Innovator Category by the Cincinnati Business Courier.
Mayfield Minute: Aneurysm Screening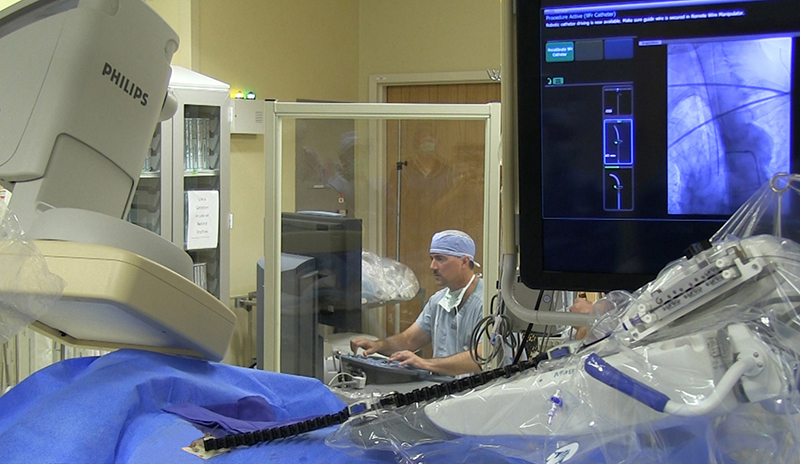 Recent News Releases:
Stroke Care Enters New Era with World's First Use of Robot-Assisted Endovascular Neurosurgery by Mayfield and TriHealth Neuroscience Institute
Mayfield Clinic helps confirm value of flow-diverting device in treatment of most challenging brain aneurysms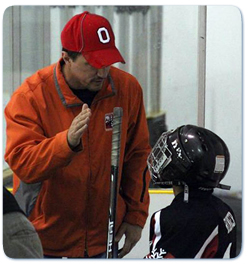 Dr. Ringer served many years as a Cub Scout den leader and youth hockey coach.

Recent Publications by Dr. Ringer:

Ringer AJ, Khalessi AA, Mocco J, Boulos A, Welch B, Siddiqui AH, Lopes D, Bendok B, Arthur A, Levy E, Veznedaroglu E; Endovascular Neurosurgery Research Group (ENRG). Intervention for intracranial atherosclerosis after SAMMPRIS. World Neurosurg. 78:409-12, 2012.

 Kan P, Siddiqui AH, Veznedaroglu E, Liebman KM, Binning MJ, Dumont TM, Ogilvy CS, Gaughen JR Jr, Mocco J, Velat GJ, Ringer AJ, Welch BG, Horowitz MB, Snyder KV, Hopkins LN, Levy EI. Early Postmarket Results After Treatment of Intracranial Aneurysms With the Pipeline Embolization Device: A US Multicenter Experience. Neurosurgery. 71(6):1080-1088, 2012.