Physician spotlight: Dr. Juan Mejia Munne
Family is the focus for Mayfield's newest neurosurgeon
Becoming a doctor was a natural fit for Dr. Juan Mejia Munne.
The newest neurosurgeon at Mayfield Brain & Spine, Dr. Mejia Munne certainly has the bloodlines. His father, also named Juan, has served in Greater Cincinnati for decades as a local hospitalist. His mother earned a medical degree. His grandfather was an orthopedic surgeon. His wife, Cristin Shaughnessy, is a dermatologist, and her parents are physicians as well.
"I always liked science and technical things, and I always thought I might want to be a doctor," Dr. Mejia Munne said. "This is the career I wanted."
As a child, he would go with his father to the physician rooms at local hospitals. While in high school and college, he volunteered in emergency rooms. During the summer while he was in college, he worked in a neuroscience lab at the University of Cincinnati, where he was exposed to deep brain stimulation surgery with then-Mayfield neurosurgeon Dr. George Mandybur. And while in medical school at Columbia University, his roommate's father was a spine surgeon there, so he quickly immersed himself in the field of neurosurgery.
"They seemed like the Navy Seals. They worked hard and they took their work very seriously," Dr. Mejia Munne said of the neurosurgeons he encountered. "They carried themselves in a way I thought all surgeons should carry themselves."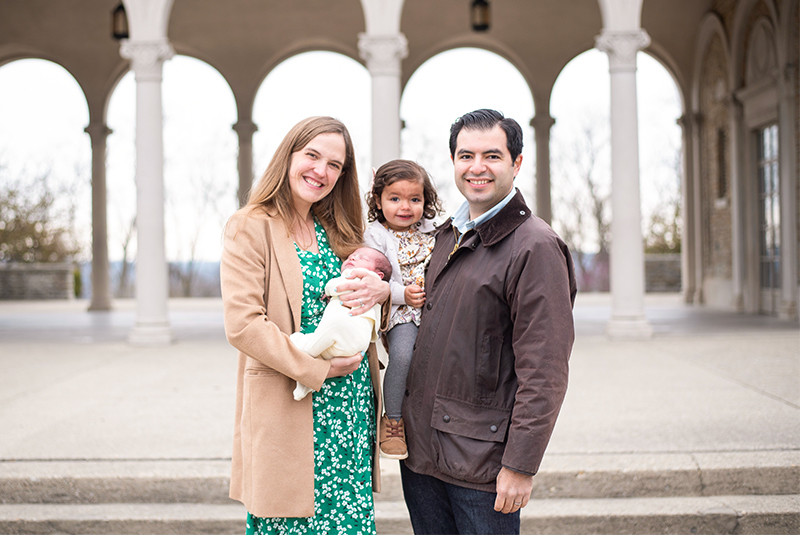 Dr. Mejia Munne with his wife Cristin and their two children.
Now Dr. Mejia Munne is one of those neurosurgeons himself. This new phase in his life is not without adjustments. He and his wife recently welcomed a second child into their family. As he joins his wife on runs – "I'm a runner by proxy," he says – you often can find Dr. Mejia Munne pushing a double stroller on the hilly sidewalks of Cincinnati's East Side. Most years, the couple has joined thousands of others in a morning run on Thanksgiving Day.
"It has been a rewarding challenge thus far," he said of fatherhood. "The most important thing in my free time is to spend time with my family and be the best father I can be to my children."
Dr. Mejia Munne will see patients out of Mayfield's newest office at 7661 Beechmont Avenue in Anderson Township. The office opened in March, and he called the opportunity "very exciting," both for patients and for Mayfield. He will perform surgeries at Mercy Hospital – Anderson, The Jewish Hospital – Mercy Health, The Christ Hospital and the Mayfield Spine Surgery Center.
"We've had a presence in that area before, and I think the new office will help us serve those patients with the elite level of neurosurgical care that distinguishes Mayfield," he said.
Dr. Mejia Munne speaks English and Spanish, a product of his upbringing in a bilingual household. He spoke Spanish at home for most of his childhood and spent many summers as a child in his parents' native Dominican Republic. He views that as an asset to his medical practice.
"It's nice to be able to talk to patients in the language they feel most comfortable speaking," he said.
Once he started his surgical training, Dr. Mejia Munne grew to admire Mayfield Brain & Spine for the technical expertise of its surgeons. He regards several of his new colleagues as mentors and believes their commitment to the intricacies of neurosurgery sets Mayfield apart.
"When I worked with Mayfield surgeons in medical school, it was pretty evident that they were technical masters and dedicated to furthering surgical technique," he said. "Whenever you're around Mayfield people, there's always a lot of nuanced discussion of surgical techniques. And it all is designed to benefit the patient. Patient care should drive everything a neurosurgeon does."
About Dr. Juan C. Mejia Munne:
Grew up: Springfield Township
Family: Wife, Cristin Shaughnessy, and two young children
Education: St. Xavier High School, the University of Notre Dame and Columbia University College of Physicians and Surgeons
Residency: Neurosurgery, University of Cincinnati College of Medicine
Fellowship: Complex Spinal Surgery, University of Cincinnati College of Medicine.