Physician spotlight: Christopher McPherson, MD
Dr. Christopher McPherson is a neurosurgeon with Mayfield Brain & Spine and Site Director for Neurosurgery at Good Samaritan Hospital. His subspecialties include spine surgery (with a focus on minimally invasive surgery) and neuro-oncology, which involves the treatment of tumors of the brain and spine.
Born and raised in Kansas City, Kansas, Dr. McPherson has wanted to be a doctor for as long as he can remember. He earned his bachelor's degree at the University of Kansas, then remained at Kansas for medical school, where he fell in love with neurosurgery while learning about the anatomy of the brain. "Once I saw a brain surgery in the operating room, I was hooked!" Dr. McPherson says.
He then traveled east to Cincinnati, where he spent six years as a neurosurgical resident. He also met his future wife, a lovely "West Side girl," on a blind date arranged by a patient of one of his professors. This not-so-insignificant fact ensured that Dr. McPherson would ultimately make his permanent home in Cincinnati. Following graduation, he did advanced fellowship training in neuro-oncologic neurosurgery, specializing in tumors of the brain, spine, and spinal cord at the famed MD Anderson Cancer Center in Houston. He returned to Cincinnati as a Mayfield neurosurgeon in 2005.
Dr. McPherson has made a special commitment to the battle against brain tumors and especially glioblastoma multiforme, a common and highly aggressive brain cancer. He was Cincinnati's principal investigator in The Cancer Genome Atlas, a national study that mapped out the glioblastoma and glioma tumors' entire genomes in order to identify abnormalities at the molecular level that could be targets for therapies of the future. He was also Cincinnati's principal investigator on the Ohio Brain Tumor Research Study, which looked for risk factors for brain tumors, and was principal investigator for the University of Cincinnati Brain Tumor Tissue Bank.
Dr. McPherson was a member of the Executive Committee of the American Association of Neurological Surgeons / Congress of Neurological Surgeons (AANS/CNS) Section on Tumors from 2009 to 2016. He served on the faculty of the University of Cincinnati from 2005 to 2017, served as Director of the Division of Surgical Neuro-Oncology from 2009 to 2017, and was a founding member of the UC Brain Tumor Center. He has published 26 journal articles and serves as a frequent reviewer for publications regarding brain tumors in the Journal of Neuro-Oncology.
Dr. McPherson also has a special interest in spine surgery and its evolving minimally invasive capabilities. "Spine surgery is a fascinating field that is growing exponentially," he says.
"Emerging technologies and techniques are allowing us to help patients in new and innovative ways. Nothing makes me more excited than seeing a patient who was in pain or disabled come to the office pain free and back to living a normal life. That is my biggest reward."
Dr. McPherson is an active member in the Greater Cincinnati-Northern Kentucky community, especially on the West Side, where he resides. He is a member of the Friends of Krohn Conservatory and a supporter of the Greater Cincinnati United Way and the Cincinnati Zoo. He was elected to the Cincinnati Business Courier's Forty-under-40 class of 2010 and was named one of the Business Courier's Health Care Heroes finalists in the innovator category in 2013. He has been named to Cincinnati Magazine's regional list of Top Doctors every year since 2012.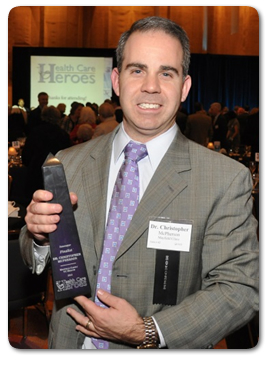 Dr. McPherson, 2013 Health Care Heroes finalist
Related links:
18 Mayfield Physicians Named to National, Regional 'Top Doctors' Lists

Daily Advances Give Brain Tumor Expert Hope
Recent publications:
Air EL, Warnick RE, McPherson CM.Management strategies after nondiagnostic results with frameless stereotactic needle biopsy: Retrospective review of 28 patients.Surg Neurol Int. 2012;3(Suppl 4):S315-9.
McPherson CM, Gerena-Lewis M, Breneman JC, Warnick RE. Results of phase I study of a multi-modality treatment for newly diagnosed glioblastoma multiforme using local implantation of concurrent BCNU wafers and permanent I-125 seeds followed by fractionated radiation and temozolomide chemotherapy.J Neurooncol. 2012 Jul;108(3):521-5.