Physician spotlight: Randall Hlubek, MD
Complex spine surgery is a long and winding road that Dr. Randall Hlubek enjoys traveling with his patients. "There is a lot of planning that goes into it, and recovery can take 6 months to a year," says Dr. Hlubek, a neurosurgeon with Mayfield Brain & Spine. "Because it's such a long process, you're building relationships with your patients. You continue to follow them for a long time."
Dr. Hlubek (pronounced LU-beck), who is fellowship-trained in the treatment of complex spinal disorders involving scoliosis, deformity, tumors, and trauma, does not embark on complex cases alone. "Part of my philosophy is that it's a team approach," he says. "We reach out to the patient's primary care physician and other medical doctors to get their input, and we present the patient's case at our bi-monthly Complex Spine Conference, which includes spine surgeons, radiologists, physical medicine & rehabilitation specialists, and physical therapists.
"Everyone has a chance to offer their input, and then as a team we come up with a game plan that we think is best for the patient. These are big surgeries, and you want to make sure that everything is optimized for the patient and everyone is on the same page so that you can be sure to get the best results. It's a long road, and everybody has to be comfortable with the decision."
The patient, especially, must be on board. "I always tell people that we perform surgery to get you back to doing the things you want to do," Dr. Hlubek says. "If you're living life and you're happy with the way things are, you don't need to have the surgery. But if you're not doing the things you want to do, if you aren't engaging in life, those are reasons to do it."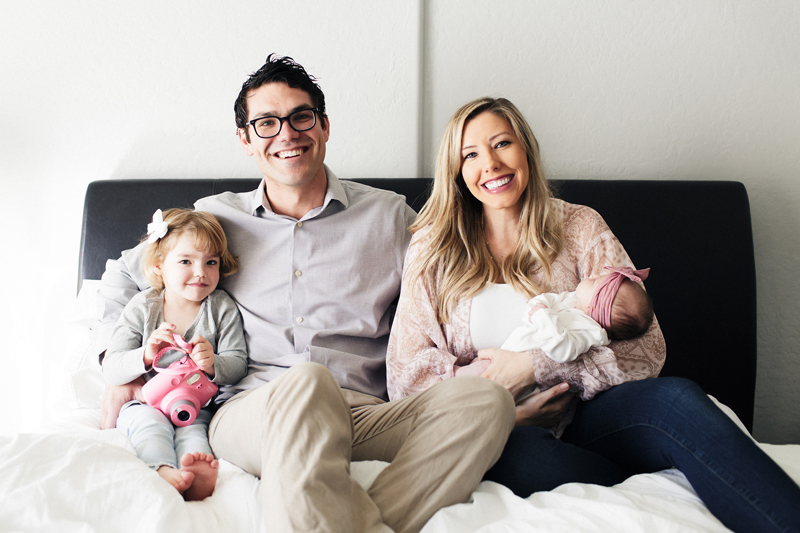 Dr. Hlubek with wife Brittany, and their two daughters.
Dr. Hlubek, who typically performs complex spine surgeries with another Mayfield surgeon, also warns patients of the emotions they will experience. "I tell them that when they're in the hospital they will be in a lot of pain and we may not be their favorite. It's a long process, a tough recovery with a lot of ups and downs. But in the long run, it's worth it if it brings back quality of life."
Dr. Hlubek, who grew up in Oklahoma, set his sights on becoming a doctor in high school during an internship with a prosthetics company.
"I really enjoyed working with patients and helping them through their rough patches. They would come in to get fitted for prosthetics, and I helped build them. Many of the patients had lost a limb, and it was a trying time for them. I had an opportunity to interact with them and build a relationship and see them through the whole process. It was a rewarding experience."
After high school, Dr. Hlubek enrolled at Tulane University. He was a sophomore when Hurricane Katrina began her ominous approach toward New Orleans. Dr. Hlubek and his classmates packed their bags and headed inland to Baton Rouge. "My roommates and I got out that morning right before it hit," Dr. Hlubek recalls. "Baton Rouge is usually is a 45-minute drive. It took us 13 hours to get there."
Amidst the devastation, Tulane was shut down for a semester. When the students returned months later, New Orleans and Tulane were still struggling to recover. Dr. Hlubek stayed for a semester, taking part in the rebuilding efforts, then returned home to Oklahoma and transferred to Oklahoma State University.
After graduation, Dr. Hlubek enrolled at the University of Oklahoma College of Medicine, where he found his calling while doing a neurosurgery rotation during his third year. "I was always interested in the neuroscience," Dr. Hlubek says. "I really liked the technical side of neurosurgery; I liked working with my hands. It was a specialty that combined the joy of neuroscience and the ability to help patients the way I did in the prosthetics practice."
From there, Dr. Hlubek embarked on a prestigious neurosurgical residency at Barrow Neurological Institute and St. Joseph's Hospital in Phoenix. During his residency he completed a fellowship in spine deformity at Barrow and a second fellowship in spine deformity and minimally invasive surgery with orthopedic surgeons at the San Diego Spine Foundation. His training with both neurological and orthopedic surgeons has equipped him with a uniquely well-rounded foundation in spine surgery.
His career ready for lift-off, Dr. Hlubek joined Mayfield in the summer of 2019.
"Aside from being able to combine all the things that led me to go into neurosurgery, I think it's a great career because, first of all, you're helping people," he says. "And second, your days are always different, always challenging. There are obstacles that come up and need to be overcome. You're problem solving, constantly learning. All of that is what makes it exciting."
As for hobbies? "I have no hobbies now that I have two daughters who have completely overtaken my life," Dr. Hlubek says. "Before that, my wife and I enjoyed the outdoors. We liked hiking, going to the beach when we were in San Diego. But now? Hobbies to be determined."
~ Cindy Starr
"Aside from being able to combine all the things that led me to go into neurosurgery, I think it's a great career because, first of all, you're helping people." ~Randall Hlubek, MD
---