Physician Spotlight: Robert Bohinski, MD, PhD
Week after week, he performs the surgeries that "can't be done." With the delicacy of an artist and the stamina of a marathon runner, Dr. Robert Bohinski rebuilds failing spines. Over a period of two or three days, he recovers lives that have been devastated by pain, contortion, and deformity.
Cumulatively, these staged operations can last up to 15 to 18 hours. They involve high drama in the surgical theater: a carefully designed surgical fracture called a pedicle subtraction osteotomy. This enables Dr. Bohinski to straighten the spine and then secure it with screws and rods that can be up to 20 inches long.
The risks of these surgeries are real, but the benefits are transformative. A patient whose chin was pressed against her chest can hold her head high again. A patient whose spine was so curved that he cannot look his friends in the eye is once again standing tall.
Asked whether he is on edge going into a complex spinal deformity procedure, Dr. Bohinski thinks a moment before breaking into a smile. "You know, I usually feel pretty comfortable going in," he says. "I look forward to it. I get excited about it. I look at it as an opportunity to really help someone. It's an awesome privilege to be able to do this. These patients make big improvements in their lives with deformity correction."
On the day of a complex spinal deformity surgery, Dr. Bohinski rolls out of bed at around 5:30 a.m. He has breakfast and reviews the case one last time. Eager to get started, he's in the operating room, preparing to make the first incision, by 7:15.
He completes the first surgery, the shorter one, in 3 to 5 hours. The larger, second-day surgery runs from morning until dinner time.
"We do take breaks," Dr. Bohinski says. "You want to take care of yourself, and breaks are necessary. There are opportunities for a break when we are getting x-rays or CT scans."
Dr. Bohinski is doing more of these marathon surgeries than ever, at least two a month and sometimes two in a single week.
"Dr. Bohinski is an incredible surgeon," says Yair Gozal, MD, who trained with Dr. Bohinski during his 6-year neurosurgery residency. "His ability to translate the multitude of factors involved in reconstructing the deformed or injured spine is paralleled only by the exhaustive precision with which he carries out his surgical plans. He is the consummate technician, impressive to watch and assist as he painstakingly works his way through these long, challenging procedures with a mastery that makes the complex look easy."
Dr. Bohinski graduated from John Carroll University in Cleveland, then earned a doctorate in molecular and developmental biology from the University of Cincinnati College of Medicine. He earned his medical degree from UC and remained there for his neurosurgery residency. He then left Ohio to perform fellowships in spinal and cranial neuro-oncology at the famed University of Texas M. D. Anderson Cancer Center in Houston. He completed an additional fellowship in complex spinal deformity surgery at Northwestern University Memorial Hospital in Chicago. He joined Mayfield in 2003.
Away from the operating room, Dr. Bohinski savors time with his family. He enjoys traveling, skiing, gardening, art, antiques, and architecture.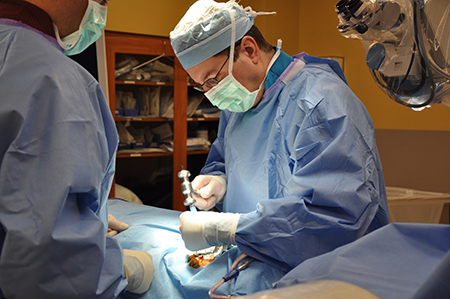 Above: Dr. Bohinski in surgery.