Mayfield launches construction of new patient office in Dayton area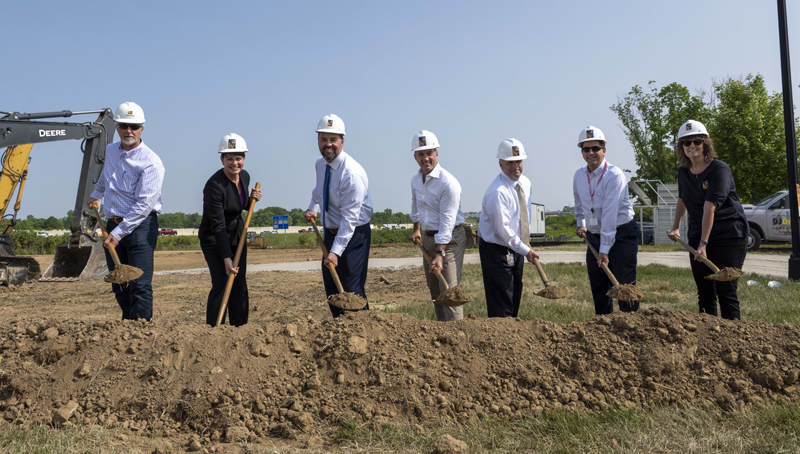 Representatives from Mayfield Brain & Spine, the city of Springboro, DB Solutions, and K4 Architecture & Design, breaking ground on Mayfield's new Springboro location
Mayfield Brain & Spine hosted a groundbreaking ceremony May 23 to officially start construction of our newest patient office in Springboro, near Dayton. When it opens in late summer 2024, this will be Mayfield's sixth patient office, joining locations in Norwood, West Chester, Green Township, Anderson Township and Crestview Hills, Ky. Planned services include dedicated neurosurgeon coverage, clinic hours for nurse practitioner appointments, physical therapy services and interventional pain treatments.
"We are thrilled to have reached this milestone – and will be even more excited when the Springboro patient office opens next year," said Dr. Andrew Ringer, a neurosurgeon at Mayfield and chairman of the Board of Directors.
Photos from the groundbreaking
Founded in 1937, Mayfield is a nationally known independent neurosurgery practice, with 20 neurosurgeons and five rehabilitation or interventional pain physicians. Our neurosurgeons perform surgeries at nearly all of the region's leading health systems, treating disorders including brain tumors, disc herniation, sciatica and strokes. In 2022, Mayfield served more than 29,000 patients from 43 states.
The Dayton location, coming in 2024, will join Mayfield's 5 current locations in Anderson, Norwood, West Chester, Crestview Hills and Green Township.
---
May 24, 2023
FOR IMMEDIATE RELEASE
CONTACTS:
Cliff Peale
Communications Department
cpeale@mayfieldclinic.com
513-569-5236