Mayfield chooses Dayton area to build sixth patient office
CINCINNATI – Mayfield Brain & Spine, Greater Cincinnati's premier neurosurgery practice, is launching construction on a new office in the Dayton area. This is Mayfield's latest expansion to serve patients with brain tumors, disc herniations, sciatica, strokes and other medical challenges.
Architectural rendering of Mayfield's Springboro location,
scheduled to open in the late summer of 2024
The new location in Springboro is scheduled to open in the late summer of 2024 as Mayfield's sixth patient office. Planned services include dedicated neurosurgeon coverage, clinic hours for nurse practitioner appointments, physical therapy services and interventional pain treatments. Mayfield's other offices are in Norwood, West Chester, Green Township, Anderson Township and Crestview Hills, Ky.
"We are always looking for opportunities to better serve our patients and improve the health of our communities," said Mark Vorherr, Mayfield's chief executive officer. "A significant number of our current patients come from the Dayton area, and the new office in Springboro will provide a location closer to where they live and work, along with access to the region's best neurosurgical care."
Mayfield will hold a groundbreaking ceremony at the site on Tuesday, May 23, starting at 10:00 a.m. Media are welcome to attend. Contact Cliff Peale at cpeale@mayfieldclinic.com.
At about 16,000 square feet, the new office will be located with convenient access to Interstate 75 and Interstate 675, in the Ascent portion of the South Tech Business Park. K4 Architecture and Design and DB Solutions are collaborating with Mayfield on design and construction.
Mayfield has served patients at an office in Cincinnati's northern suburbs since the early 1990s. In 2022, Mayfield expanded the office at 9075 Centre Point Drive in West Chester to include a pain treatment suite, X-ray services and a larger space for physical therapy. Mayfield neurosurgeons and other providers serve a growing number of patients from the Dayton region. In keeping with Mayfield's model of serving patients when and where they need care, Mayfield is discussing collaborations with the Dayton area's largest health systems.
Founded in 1937, Mayfield is a nationally known independent neurosurgery practice, with 20 neurosurgeons and five rehabilitation or interventional pain physicians. Our neurosurgeons perform surgeries at nearly all of the region's leading health systems, treating disorders including brain tumors, disc herniation, sciatica and strokes. In 2022, Mayfield served more than 29,000 patients from 43 states.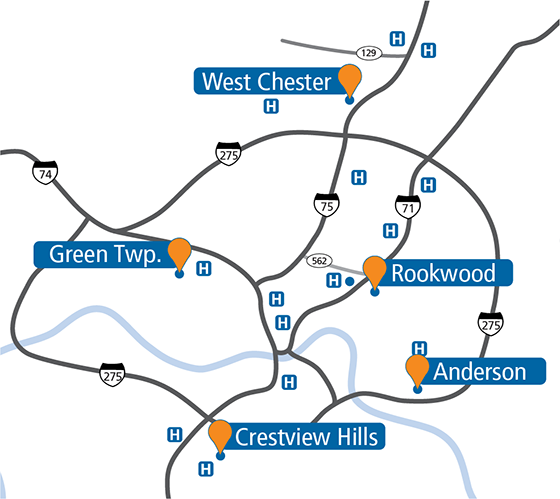 The Dayton location, coming in 2024, will join Mayfield's 5 current locations in Anderson, Norwood, West Chester, Crestview Hills and Green Township.
---
May 17, 2023
FOR IMMEDIATE RELEASE
CONTACTS:
Cliff Peale
Communications Department
cpeale@mayfieldclinic.com
513-569-5236