Mayfield Brain & Spine is a winner in 'Best Places to Work' competition
CINCINNATI – Mayfield Brain & Spine has been chosen as one of Greater Cincinnati's Best Places to Work. The region's premier neurosurgery practice was honored Sept. 13 as a winner in the Grand category (more than 200 employees) for companies that have previously been finalists. The Cincinnati Business Courier announced the winners in an event at TQL Stadium.
Mayfield associates accepted the award September 13th, at TQL Stadium.
The ranking is based on confidential surveys completed by Mayfield associates. Learn more about Mayfield's particular strengths as a workplace at https://bit.ly/MC_BestPlaces.
"This ranking confirms what we already know – that Mayfield is a family atmosphere where physicians and all associates work together to provide life-changing care to our patients," said Dr. Andrew Ringer, a Mayfield neurosurgeon and chairman of the Board of Directors. "At Mayfield, we live out our core values of integrity, excellence, respect, compassion and collaboration each and every day."
Each September, Mayfield celebrates Associate Appreciation Week. The week culminates in an All-Associate Meeting featuring recognition of employees who have reached employment milestones, presentations to help associates stay informed about trends in neurosurgery and learn how we can continue to work together to continue to provide superior care to our patients, plus team building and motivational resources.
Kiara Jackson, a medical assistant in Mayfield's Norwood patient office, called Mayfield her "forever home."
"There is always opportunity to grow," Jackson said. "I feel like there are numerous opportunities for me at Mayfield to advance and stay here."
For information about working at Mayfield, including updated openings, visit MayfieldClinic.com/Careers.htm.
---
About Mayfield Brain & Spine:
Founded in 1937, Mayfield is a nationally known independent neurosurgery practice, with 21 neurosurgeons and five rehabilitation or interventional pain physicians. Neurosurgeons see patients at four offices and perform surgeries at nearly all of the region's leading health systems, treating brain tumors, spinal deformity, strokes and a variety of other disorders of the brain and spine. With about 240 total associates, Mayfield served more than 27,000 patients from more than 40 states in 2021.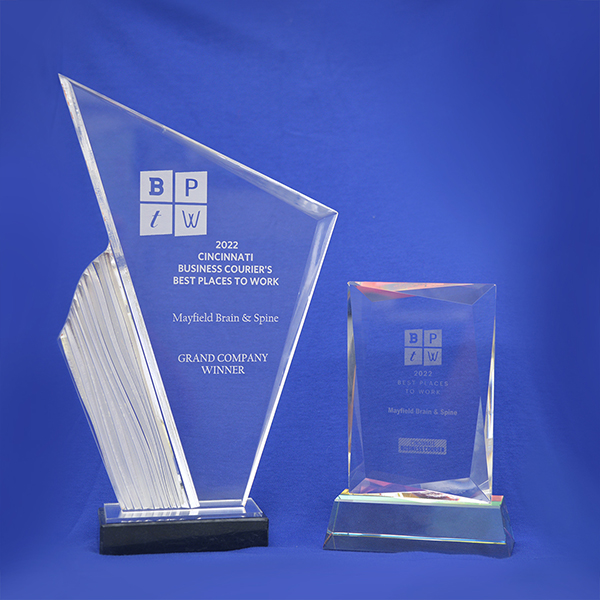 Best Places to Work Award 2022
---
September 14, 2022
FOR IMMEDIATE RELEASE
CONTACTS:
Cliff Peale
Communications Department
cpeale@mayfieldclinic.com
513-569-5236