Mayfield Neurosurgeon First in the Region to Implant Percept™ Deep Brain Stimulation System to Treat Parkinson's Disease
George Mandybur, MD, a neurosurgeon with Mayfield Brain & Spine, is the first in the region to implant the Medtronic Percept™ deep brain stimulation (DBS) system to treat Parkinson's disease (PD).
The Percept system was approved in June 2020 by the U.S. Food and Drug Administration (FDA). It is the first and only DBS system in the U.S. with groundbreaking BrainSense™ technology that allows clinicians the ability to capture and record a patient's brain signals while delivering the DBS therapy. Physicians can now track patient brain signals and correlate these with patient-recorded actions or experiences, such as symptoms, side-effects, or medication intake. This feedback from a patient's brain enables more personalized, data-driven neurostimulation treatment.
Dr. Mandybur first implanted the Percept system in a patient with Parkinson's disease at Mercy Health Jewish Hospital in early August 2020.
Nearly 1 million Americans are living with Parkinson's disease, which can significantly interfere with quality of life. When medications aren't as effective as they used to be for PD and symptoms make everyday life a challenge, DBS should be considered.
Dr. Mandybur explains, "DBS does not cure Parkinson's disease, nor can it improve declines in memory and thinking that come with Parkinson's. But DBS surgery can help improve symptoms, such as tremor, slowness of movement, stiffness, and difficulty walking. It can significantly improve a patient's quality of life. Now we can correlate the stimulation to brain activity, which can help with additional therapy decision making down the road."
During surgery, electrodes are implanted that deliver electrical signals to an area of the brain that is responsible for movement. The electrodes are connected to a stimulator device that resembles a pacemaker. Deep brain stimulation can be done while you are awake or asleep. Even if you are awake, you will feel no pain during the procedure.
In addition to BrainSense technology, the Percept DBS system features several leading-edge innovations, including:
Expanded eligibility for 3T and 1.5T full-body MRI scans
Digital diary for capturing patient actions and experiences
Smart battery technology for estimating a patient's remaining battery life
Enhanced Patient Programmer leveraging a user-friendly, custom-configured Samsung mobile device that allows patients to manage their therapy easily
Software upgradeability to deliver expanded capabilities in the future without additional surgeries
Dr. Mandybur's career has focused on surgical techniques for movement disorders. Since 1991, he has performed more than 1,000 surgeries for movement disorders and notes that the experience of seeing a patient's hand tremor disappear during surgery "never gets old."
According to Andrew Ringer, MD, Chairman of the Board at Mayfield, "Dr. Mandybur is an expert in the care of patients with movement disorders and it's exciting to see him offer leading edge treatments to his patients that have the possibility to transform the standard of care."
---
Mayfield Brain & Spine is the full-service patient care provider of the Mayfield Clinic, one of the nation's leading physician organizations for neurosurgical treatment, education, and research. With more than 30 specialists in neurosurgery, interventional neuroradiology, physical medicine and rehabilitation, pain management, and physical therapy, Mayfield Brain & Spine treats 25,000 patients from more than 30 states in a typical year. Mayfield physicians specialize in the treatment of back and neck pain, sciatica, Parkinson's disease, essential tremor, NPH, epilepsy, brain and spinal tumors, stroke, moyamoya, brain aneurysms, Chiari malformation, scoliosis, kyphosis, facial pain, facial twitch, trauma, concussion, spinal cord injury, and carpal tunnel. As leading innovators in their field, Mayfield physicians have pioneered surgical procedures and instrumentation that have revolutionized the medical art of neurosurgery for spinal diseases and disorders, brain tumors, and neurovascular diseases and disorders.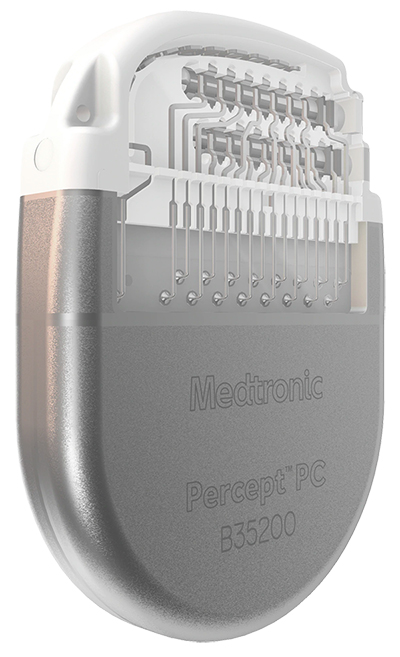 Percept™ Deep Brain Stimulation System