Mayfield neurosurgeon is first in Ohio to use the Mazor X Stealth Edition™ Robotic Guidance Platform at an outpatient surgery center
CINCINNATI - Michael Kachmann, MD, a Mayfield neurosurgeon specializing in complex and minimally invasive spine surgery, performed the first surgery at an ambulatory surgery center in Ohio using the Mazor X Stealth Edition™ Robotic Guidance Platform. The surgery was performed at the Mayfield Spine Surgery Center in September.
The surgery, a transforaminal lumbar interbody fusion (TLIF), is a contemporary approach to spinal fusion surgery. Manufactured by Medtronic, the Mazor X Stealth Edition™ Robotic Guidance Platform combines pre-operative planning tools and analytics with intra-operative guidance, giving Mayfield spine surgeons advanced spinal surgery options. While Mayfield surgeons have performed over 300 cases using the Mazor X system at local hospitals, this is the first surgery using the system at an outpatient surgery center in the state of Ohio.
"We have been very pleased with the capability of Mazor X during spine surgery," said Dr. Kachmann. "The ability to now use this system in an outpatient setting ensures that we are continuing to provide the most advanced techniques for our patients."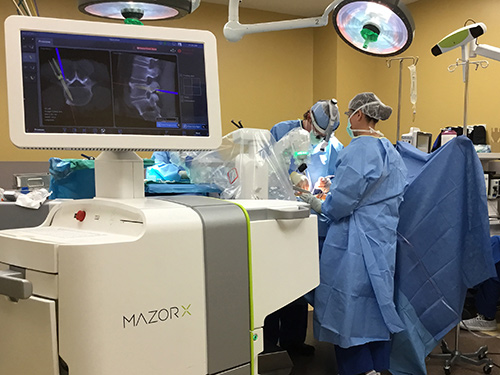 Neurosurgeon Michael Kachmann and Physician Assistant Kate Walters perform a minimally invasive TLIF spinal fusion using the Mazor X Stealth Edition™ Robotic Guidance Platform.
As spinal surgery has evolved, more focus has been placed on minimally invasive techniques, and this is where the Mazor X Stealth EditionTM Platform can deliver its greatest technological benefits. Minimally-invasive procedures with their smaller incisions can pose a challenge to surgeons due to the limited view of the patient's anatomy. The Mazor X Stealth EditionTM Robotic Guidance Platform helps to overcome this challenge with a 3D comprehensive surgical plan and analytics that gives the surgeon comprehensive information and visualization before the surgery starts.
Minimally-invasive surgery has been a major focus in recent years, often providing the most advanced technologies along with high quality care for patients.
"Mayfield has established its reputation as a leader in spine surgery with its advanced technologies and excellence in patient care," said Dr. Kachmann. "The Mazor X Stealth EditionTM Robotic Guidance Platform helps us to continue our leadership in spine surgery excellence."
---
About Mayfield Brain & Spine
Mayfield Brain & Spine is the full-service patient care provider of the Mayfield Clinic, one of the nation's leading physician organizations for neurosurgical treatment, education, and research. With more than 30 specialists in neurosurgery, interventional neuroradiology, physical medicine and rehabilitation, pain management, and physical therapy, Mayfield Brain & Spine treats 25,000 patients from more than 30 states in a typical year. Mayfield physicians specialize in the treatment of back and neck pain, sciatica, Parkinson's disease, essential tremor, NPH, epilepsy, brain and spinal tumors, stroke, moyamoya, brain aneurysms, Chiari malformation, scoliosis, kyphosis, facial pain, facial twitch, trauma, concussion, spinal cord injury, and carpal tunnel. As leading innovators in their field, Mayfield physicians have pioneered surgical procedures and instrumentation that have revolutionized the medical art of neurosurgery for spinal diseases and disorders, brain tumors, and neurovascular diseases and disorders. More information at www.MayfieldClinic.com.
About Medtronic
Medtronic plc (www.medtronic.com), headquartered in Dublin, Ireland, is among the world's largest medical technology, services and solutions companies - alleviating pain, restoring health and extending life for millions of people around the world. Medtronic employs more than 84,000 people worldwide, serving physicians, hospitals and patients in approximately 160 countries. The company is focused on collaborating with stakeholders around the world to take healthcare Further, Together.