Mayfield neurosurgeon first in southern Ohio to implant Vercise™ Gevia™ stimulator system for Parkinson's disease
CINCINNATI -- A Mayfield Brain & Spine neurosurgeon has performed the first implantation in southern Ohio of a new-generation deep brain stimulation (DBS) device designed to provide targeted therapy and symptom relief to patients with Parkinson's disease.
George Mandybur, MD, a specialist in movement disorders, performed the 4-hour procedure last week at The Jewish Hospital – Mercy Health. The patient, a 71-year-old man from Independence, Kentucky, went home the next morning.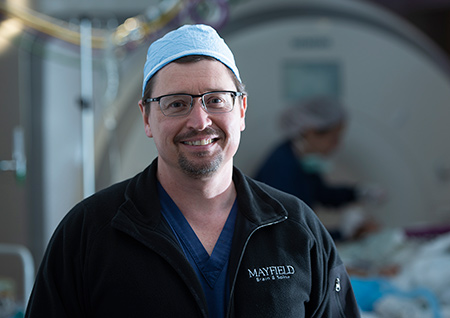 Dr. George Mandybur
Dr. Mandybur was one of the investigators for the clinical study, known as INTREPID, which led to the device's approval by the Food and Drug Administration last January.
DBS surgery involves the implantation of electrodes into the subthalamic nucleus, an area the size of a jelly bean deep within the brain. The electrodes, connected to a stimulator device that resembles a pacemaker, deliver electric pulses to regulate brain activity. Although DBS cannot cure Parkinson's, it can reduce symptoms of tremor, stiffness, and slowness of movement. The new technology, the Vercise™ Gevia™ Directional DBS System, was developed by Boston Scientific to reduce symptoms of Parkinson's that are not adequately controlled by medication. Unlike traditional DBS systems that are built from pacemaker technology, the Vercise Gevia (pronounced Vir-Cise JEV-ee-ah) was developed from a foundation of cochlear implant technology. It is the only system available that offers an independent power source for each individual electrode.
The Vercise Gevia enables doctors to tailor treatment and reduce side effects by "steering" electrical pulses to the desired area within the subthalamic nucleus. The stimulation can be steered up, down, or in a 360-degree circular motion to precisely target the anatomy. Adjusting the pulses in this way can help doctors program the device to address changes in symptoms during the progression of PD. It also helps them to counter any negative side effects that the electrodes may cause.
The technology, which charges wirelessly, also offers the patient up to 15 years of battery life, far longer than non-rechargeable batteries that are surgically replaced every 3 to 5 years.
"The Vercise Gevia directional leads have eight individually controlled electrodes," Dr. Mandybur says. "Each electrode can be adjusted or turned on and off independently.
"We can still activate the current in all directions, but we also can bias the current in a particular direction. This is beneficial in situations where the electrode is near neurons or fibers that, when activated, produce a side effect, such as a speech problem, too much tingling, or a loss of coordination or balance. In these situations, we can turn off the 360-degree activation, steer the current away from the problematic neurons, and hopefully get better tremor control."
Not every patient needs this option, Dr. Mandybur says. "But it gives you an advantage in case you need it. It's a nice option to have."
The Vercise Gevia system includes a chargeable, implantable battery that a doctor or nurse practitioner can program with a computer. Patients can control the device's output with a hand-held controller.
Dr. Mandybur performed the procedure while the patient was asleep, using the MRI-guided ClearPoint® Neuro Intervention System, which is marketed by Memphis-based MRI Interventions, Inc. DBS surgery traditionally has been performed while the patient is awake.
The option to undergo the procedure while asleep is widening the number of patients who choose to undergo the elective surgery. Some patients find the prospect of being awake during brain surgery unsettling.
The Jewish Hospital is the only adult hospital in the Cincinnati region with the new ClearPoint technology.
Dr. Mandybur is a major user of all FDA-approved DBS systems for Parkinson's disease and essential tremor. He has performed more than 1,000 DBS procedures during his 22-year career.
---
Mayfield Brain & Spine is the full-service patient care provider of the Mayfield Clinic, one of the nation's leading physician organizations for neurosurgical treatment, education, and research. With more than 20 specialists in neurosurgery, interventional neuroradiology, physical medicine and rehabilitation, pain management, and physical therapy, Mayfield Brain & Spine treats 25,000 patients from more than 30 states in a typical year. Mayfield physicians specialize in the treatment of back and neck pain, sciatica, Parkinson's disease, essential tremor, NPH, epilepsy, brain and spinal tumors, stroke, moyamoya, brain aneurysms, Chiari malformation, scoliosis, kyphosis, facial pain, facial twitch, trauma, concussion, spinal cord injury, and carpal tunnel. As leading innovators in their field, Mayfield physicians have pioneered surgical procedures and instrumentation that have revolutionized the medical art of neurosurgery for spinal diseases and disorders, brain tumors, and neurovascular diseases and disorders.