Mayfield neurosurgeon performs first RIALTO™ sacroiliac joint fusion at outpatient center using the O-arm™ Imaging System and StealthStation™ Navigation System
William Tobler, MD, of Mayfield Brain & Spine recently became the first surgeon in the United States to perform a sacroiliac joint (SI) fusion at an outpatient spine surgery center using the RIALTO™ system with O-arm™ and StealthStation™ technology for 3-D navigation. The patient went home to recuperate a few hours after the one-hour procedure was completed.
The O-arm is a technology that provides high-resolution images of the spine and surgical site before, during and immediately after surgery. It is marketed by Medtronic.
The RIALTO fusion system, a set of specialized fixation screws for sacroiliac (SI) joint fusion, is also marketed by Medtronic.
"The O-arm imaging device, when used with navigation technology, enabled me to do a sacroiliac fusion at Mayfield's Spine Surgery Center," Dr. Tobler says. "We have used the O-arm at the Spine Surgery Center before, but never for an SI fusion. This was a fantastic way to do this particular procedure."
The benefits of using the O-arm during an SI fusion, Dr. Tobler says, include real-time images of the anatomy. The procedure involves the placement of titanium implants and bone graft material to stabilize the joint and promote bone growth.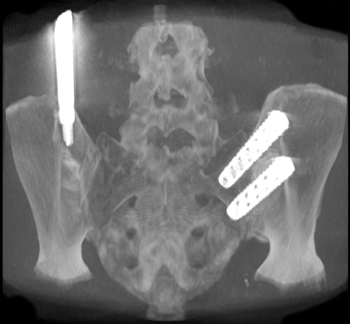 The SI joints, which connect the spine to the hips, provide support and stability. They also absorb impact when an individual walks or lifts an object. Sacroiliac pain can occur when bones become arthritic and ligaments stiffen during the aging process.
Typically, SI joint fusion has been performed in a hospital setting, with patients staying overnight and going home the next day.
"Performing the SI fusion at the Spine Surgery Center is significant, because it demonstrates our ability to perform more and more sophisticated surgeries at an ambulatory center," Dr. Tobler says.
Mayfield acquired the O-arm system in 2016.
---
Mayfield Brain & Spine is the full-service patient care provider of the Mayfield Clinic, one of the nation's leading physician organizations for neurosurgical treatment, education, and research. With more than 20 specialists in neurosurgery, interventional neuroradiology, physical medicine and rehabilitation, and pain management, Mayfield Brain & Spine treats 25,000 patients from 35 states and 13 countries in a typical year. Mayfield physicians specialize in the treatment of back and neck pain, sciatica, Parkinson's disease, essential tremor, NPH, epilepsy, brain and spinal tumors, stroke, moyamoya, brain aneurysms, Chiari malformation, scoliosis, kyphosis, facial pain, facial twitch, trauma, concussion, spinal cord injury, and carpal tunnel. As leading innovators in their field, Mayfield physicians have pioneered surgical procedures and instrumentation that have revolutionized the medical art of neurosurgery for spinal diseases and disorders, brain tumors, and neurovascular diseases and disorders.