Walter's story
Acute spinal cord injury
Emergency spinal surgery aids Walter's recovery from a fall
Walter remembers lying in a hospital bed and wondering if he would recover. Only days after a fall onto the back of his neck had fractured his spine in two places, he had gone through surgery with Dr. Zach Plummer, a neurosurgeon at Mayfield Brain & Spine. After the operation, Walter was trying to stay positive.
"Dr. Plummer told me that I had a severe neck injury, that they had to decompress it and do that quickly," Walter says. "I was thinking, 'When am I going to walk out of here? I've got to get better.' Dr. Plummer just said, 'Yeah, you're going to get better.'"
Walter's condition improved immediately after surgery and he progressed steadily each day, even working remotely from his hospital bed. After a week in the hospital following surgery, Walter spent several weeks at an inpatient rehab facility, and it was nearly a month before he could walk on his own. Today, about seven months later, he can walk a mile and mow his own lawn, and he's back to work as a manufacturing engineer.
The spinal cord normally floats in fluid (white), but Walter's was compressed in two areas (red arrows). He had a teardrop fracture vertebra at C3 and facet fractures at C5 and C6. The spinal cord contusion was swelling and causing weakness and paralysis.
"The biggest thing is, I'm glad that I'm alive," Walter says. "I think I could have died, just because of how it happened."
It happened in late 2022, when Walter was climbing into his large truck. He lost his balance and fell backward onto the pavement, directly on his shoulder and neck. Once he became aware of his surroundings, he was in the hospital, wearing a surgical collar to stabilize his neck.
X-rays showing a C3-T1 fusion with rods and screws to stabilize Walter's fractures
Dr. Plummer says Walter had suffered a traumatic fracture of his cervical spine, resulting in a severe spinal cord injury. The surgery would take pressure off the nerves and stabilize the fracture, and Dr. Plummer performed an emergency laminectomy to remove some of the bone that was jutting into the spinal column. He also fused the vertebrae from C-3 to T-1, from Walter's jawline to his shoulder level.
"Walter suffered a significant trauma to his spine when he fell, and we needed to relieve the pressure on his spinal cord immediately," Dr. Plummer says. "The laminectomy eliminated some of the bony fragments that were impinging his spinal cord, and the fusion stabilized his cervical spine. The goal was to stem the damage and give Walter every chance to use his arms and legs again."
Walter doesn't remember much pain immediately after the surgery, but noticed he could move his legs and arms the next day. During his 30 days in a rehab center, he steadily progressed to standing, then taking a step, then walking with a walker, and finally walking on his own.
"I had some bad days, and they (rehab staff) encouraged me and pushed me," he recalls. "And I pushed them, too."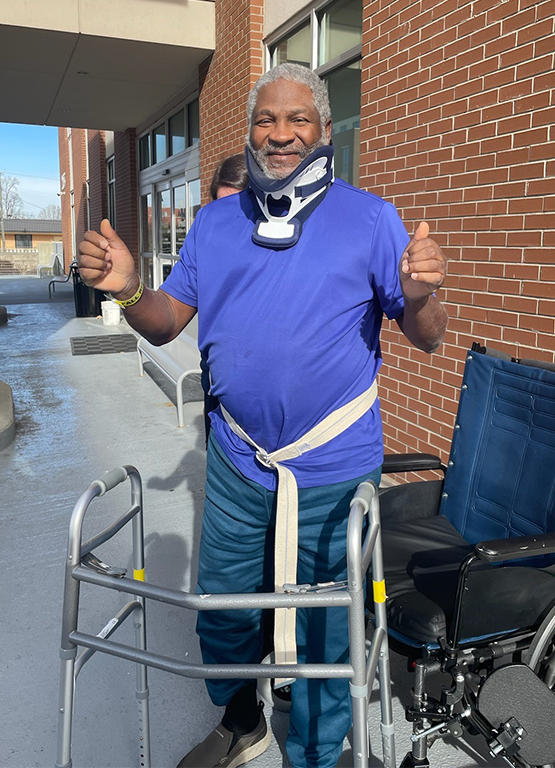 Walter steadily progressed to standing, then taking a step, then walking with a walker, and finally walking on his own.
Walter has been a musician, playing trumpet in several bands. The highly physical activity puts pressure on his arms and his diaphragm. He says the progress he's made so far only makes him more eager to get back to making music.
"I really have come a long way," he says. "I'm getting more and more mobility, and I hope everything continues to get better."
~ Cliff Peale
Hope Story Disclaimer -"Walter's Story" is about one patient's health-care experience. Please bear in mind that because every patient is unique, individual patients may respond to treatment in different ways. Results are influenced by many factors and may vary from patient to patient.
---
Related links: