Tricia's story
Hemangioblastoma
A year ago, during the hustle and bustle of preparing to send her kids back to school, Tricia got sick. After days of not feeling well, she went to see her primary care physician. It had been a while since her last physical, so she agreed to return for a general appointment the following week.
Tricia's biggest complaint was a knot between her neck and shoulder that was causing a lot of soreness. She went to three physical therapy appointments assuming it was a pinched nerve. Then she started having constant tingling in her fingers. When the physical therapist found out that her symptoms were not improving and were actually getting worse, she stopped Tricia from any further physical therapy and contacted the primary care physician suggesting that an MRI be ordered.
The primary care physician called Tricia with the MRI results showing degenerative disc disease – and a brain tumor – and that she needed to go to Mayfield to see Yair Gozal, MD, PhD.
After hanging up the phone, Tricia thought, "Did I just hear that correctly?" and wondered if the tumor was cancerous. Dr. Gozal's assistant, Denise, called Tricia within two hours and had her scheduled for an appointment first thing Monday morning.
At the appointment, Dr. Gozal explained that Tricia had a hemangioblastoma – a rare, benign, highly vascular brain tumor. Tricia's tumor was located within her brainstem and surgery would be necessary. The tumor was causing significant swelling within the brainstem and spinal cord. He asked whether she was having trouble swallowing. Tricia couldn't believe he knew that and originally thought that issue was unrelated.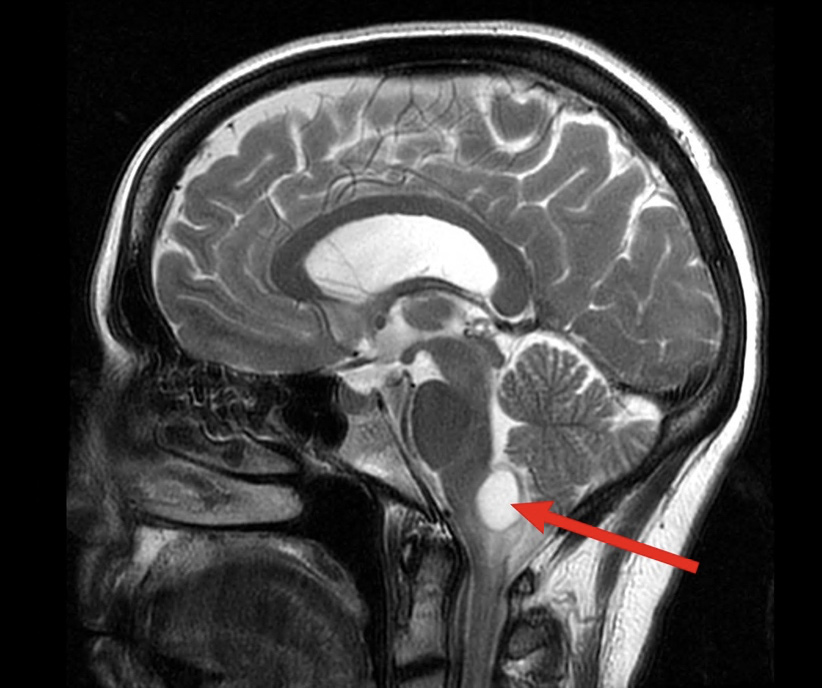 MRI scan of Tricia's brain shows a hemangioblastoma in the brainstem.
Surgery was scheduled ten days later. "I didn't have time to dwell on the diagnosis and am glad things went quickly," says Tricia. During that time, she organized phone tree lists and all kinds of information to help keep things moving for her family – and specifically recalls putting it into a binder with pink flamingos on the cover.
The morning of surgery, Tricia felt nervous but Dr. Gozal put her at ease. She remembers him being calm, steadfast, and reassuring. Due to the complexity of working within the brainstem, Dr. Gozal teamed up with Vincent DiNapoli, MD, PhD, to safely and completely remove the tumor. The duo is pioneering a team-based approach to complex cranial tumors in the hopes of achieving superior outcomes.
Tricia was up walking the day after surgery and was released home after three days.
During the initial recovery period, she was thankful to all of her friends and family for pitching in to help with everything from meals and cleaning to dog walking. Tricia recalls, "I just had to concentrate on me." She had been expecting immediate relief on the right side of her neck and arm but it didn't work that way. It took a lot of hard work.
Tricia went to physical therapy for four months with Tammy Bellman, PT, and Ashley Wales, PTA, of the Mayfield physical therapy team. They helped her ease lingering pain on the right side of her neck and strengthen her right arm and hand. They used massage, dry needling, and electrical stimulation to help her.
Tricia is thankful to have come as far as she has over the last year. She offers this advice, "Utilize your support system for you – and your family – to help get through this journey!"
~ Christa McAlpin
Hope Story Disclaimer -"Tricia's story" is about one patient's health-care experience. Please bear in mind that because every patient is unique, individual patients may respond to treatment in different ways. Results are influenced by many factors and may vary from patient to patient.