Shawn's story: Artificial cervical discs
Updated | August 2021
2021 update: By 2020, Shawn was back to his previous level of activity. During one of his daily rides, he hit a fallen tree and flipped over onto his hands. Some of his familiar symptoms from the previous surgery returned. Both of his arms would go numb. He started having "headaches off the charts" and was forced to stop running and biking. He gained more than 30 pounds. In December 2020, he returned to Mayfield and to Dr. Tobler, who ordered an MRI and found spinal compression and a herniated disc at the C3-4 level, two levels above Shawn's surgically inserted artificial disc. Dr. Tobler recommended another arthroplasty to replace the injured disc.
Just eight days before Christmas, Dr. Tobler removed the injured disc and replaced it with another artificial disc in a surgery at The Jewish Hospital – Mercy Health. Shawn emerged unbowed and determined to regain his active lifestyle despite multiple neck injuries and surgeries. By the time he arrived at Mayfield for a post-surgical visit in early April, he had started running again and said 95% of his symptoms were gone. Today, he runs 40-50 miles per week and bikes as much as 200 miles, riding gravel bike races much of the time.
"I just appreciate how wonderful those discs are and how good of a doctor Dr. Tobler is," Shawn says. "I trust him. I asked him, 'Should I quit?' And he said, "No!"
"Shawn is a remarkable story," Dr. Tobler said. "His performance is off the charts. This technique and this surgery have enabled his level of performance. This is an extraordinary example of pushing the limits."
Together with one of his sons who also is an ultra-marathoner, Shawn is planning a run around Mount St. Helen's in Washington – about 50 kilometers.
"I'm going to live my own life," he says. "I respect doctors who respect that. This is my passion. It's my life."
---
Original story
The pain was bad. The itching was causing despair.
For Shawn, an ultra-marathoner from central Ohio, the misery began with a visit to a new chiropractor in January 2017. Afterwards, Shawn was unable to run. He began to lose feeling in his hands. Numbness radiated from his jaw. He had terrible headaches. Occasionally, his legs gave out.
And he began to itch.
It was the itching that finally drove him to a doctor. He scheduled an appointment with a Columbus dermatologist, who made an unexpected diagnosis: severe cervical stenosis and neuropathy. Deteriorating discs in Shawn's neck, aggravated by aggressive chiropractic care, were causing serious pinching of the adjacent nerve roots and spinal cord.
Complications included a chronic "neuropathic itch," caused by malfunctioning itch-sensing neurons. The dermatologist advised Shawn to see a neurosurgeon. "The itching was driving me crazy," Shawn recalls.
Shawn turned to the Internet and began shopping. He settled on William Tobler, MD, a neurosurgeon with Mayfield Brain & Spine. Dr. Tobler told Shawn that ruptured discs at C5-C6 and C6-C7 had caused stenosis in his neck. The stenosis was so severe that Shawn needed surgery to remove the discs, which were compressing and damaging his spinal cord. He would get two new artificial discs during the procedure, called cervical disc arthroplasty.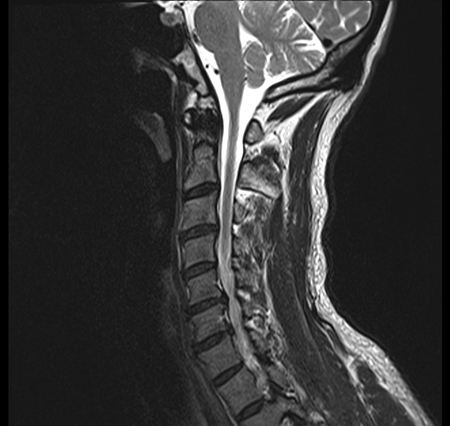 Before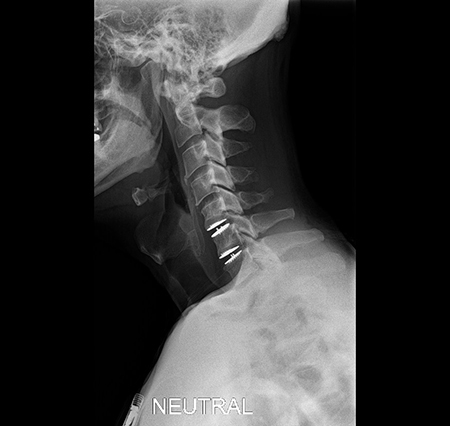 After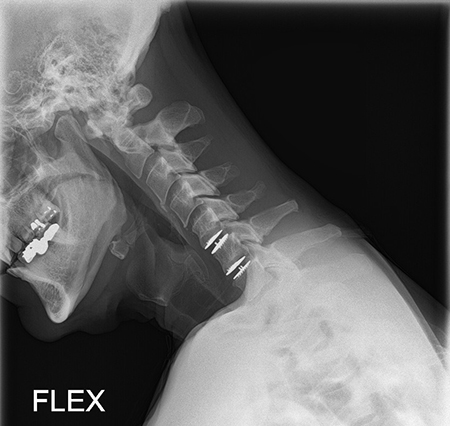 After - flexed
The 2-hour surgery took place in October 2018 at The Jewish Hospital – Mercy Health. Dr. Tobler made an incision in the front of Shawn's neck and then carefully removed the collapsed and herniated discs and disc fragments, creating two clean, open spaces. He then implanted the two artificial discs, anchoring them to the vertebrae above and below. The discs, made from a metal alloy and durable plastic, are designed to provide stability while allowing flexibility in the neck.
Three months later, Shawn, who has run the Boston Marathon three times and performed several 100-mile trail runs, was feeling like his old self again.
"I have been running," Shawn says. "It's hard to stop me, and everything is working a lot better. The numbness is gone; the tingling in my jaw is gone. The itching in my arms has stopped. I haven't had any problem with my legs going out from under me." On the agenda: a 100-mile run in Florida and a 213-mile bike ride across Michigan.
~Cindy Starr
Hope Story Disclaimer -"Shawn's Story" is about one patient's health-care experience. Please bear in mind that because every patient is unique, individual patients may respond to treatment in different ways. Results are influenced by many factors and may vary from patient to patient.