Makenzi's story
Low-grade glioma/awake craniotomy
Makenzi was awake as the brain tumor came out, and by all accounts she never stopped talking during the hours-long procedure. She talked to her neurosurgeon, Vince DiNapoli, MD, PhD, about college. She talked about her biology and chemistry courses. She talked about her dream of becoming a physician's assistant. "It was kind of fun," says Makenzi. "I remember the whole surgery."
It was just what the doctor ordered. Her chatter enabled Dr. DiNapoli to remove the entire tumor while protecting brain tissue that Makenzi needed to live well and pursue her goals.
"She talked the whole time, which was perfect," recalls Dr. DiNapoli, a neurosurgeon with Mayfield Brain & Spine and Director of the Brain Tumor Center at The Jewish Hospital – Mercy Health.
"We want her talking all the time so that as we're removing the tumor, we're getting constant feedback."
Dr. DiNapoli used a variety of mapping technologies, including functional MRI, to safely remove a low-grade glioma that was flush up against an area of Makenzi's left frontal lobe that enables her to speak and write words. During the surgery Dr. DiNapoli and his physician assistant, Angela Kramig, PA-C, used a probe to confirm the location of their instruments. When they touched speech-related brain tissue with the probe, Makenzi stopped talking.
Makenzi's surgery in April 2018 marked the first awake craniotomy performed at The Jewish Hospital. Such surgeries are undertaken only when a tumor, lesion, or seizure focus is located near an "eloquent" area related to language functions and speech. Makenzi was put to sleep when the opening in her skull was made and then awakened while the tumor was removed. She was put to sleep again as the skull flap was replaced and sutured.
Reporter Kristyn Hartman shared Makenzi's story on WCPO Channel 9 in November 2018. From left, Ms. Hartman, Dr. Vincent DiNapoli, Makenzi, and Makenzi's mother, Traci.
"Dr. DiNapoli prepared me before the surgery that it was likely that talking would be difficult for a few days following the surgery," Makenzi recalls. "The great part about this story is I woke up talking perfectly fine with no problems! This shows just how great and how perfect the surgery went! All of the credit goes to God, Dr. DiNapoli and the Mayfield team!"
The location of Makenzi's tumor, though challenging, proved to be a blessing of sorts, because it caused symptoms while still in its early stages. "If it had been in the frontal lobe in an area where it wasn't responsible for vital functions, it might have grown to be quite large before we actually found it," Dr. DiNapoli says.
The slow-growing tumor began causing symptoms in the fall of 2017 during Makenzi's junior year at Tusculum University in Tennessee. "I felt off, but nothing happened that told me I had to go to the doctor," Makenzi says. Her boyfriend told her that she was stuttering, which she had never done before. Eventually, in the spring of 2018, she lost her sense of taste. That prompted a visit to an ear, nose and throat physician, who saw nothing wrong with her ears or throat but, as a precaution, ordered an MRI.
The MRI revealed a mass the size of a golf ball in her brain. Upon hearing the news, Makenzi experienced a brief period of shock, sorrow, and why-me? "I cried for three minutes," Makenzi says. "I was feeling so bad for myself. And then I was OK."
Makenzi was referred to a neurosurgeon in Tennessee, but when she informed him that she wanted to have her surgery in Cincinnati, he said, "You need to go to Mayfield."
"There were prayer groups going on," says Makenzi's mother, Traci. "The biggest prayer was that she would get the best doctors. And it happened; we got Dr. DiNapoli."
Sitting in Dr. DiNapoli's office for the first time, Makenzi noticed that he was wearing polka dot socks. She approved, thinking, "That's pretty cool."
Makenzi's mother still tears up remembering the day of surgery. During the 5 ½-hour procedure, she sat in the waiting area, clutching a pillow. Afterward, when Dr. DiNapoli brought her back to see her daughter, she was greeted by an exuberant, wide-awake patient. "Hi, Mom!" Makenzi exclaimed. "Do you want to see a picture?"
She handed her mother a printed photograph of her brain.
"She was confident, he was confident, and she never looked back," Traci says, still shaking her head in wonder. "Someday she'll be telling her own patients: You can do this."
Makenzi's stuttering vanished completely after the surgery, and her sense of taste returned.
Five months later, she was running in a cross country meet for her university. She picked up academically where she had left off, on track to graduate a semester early with a high grade-point average. "I'm back into life with school and back to normal," she says. "It's as if the brain tumor never happened."
She has yet to settle on a physicians' assistant specialty, but neurosurgery is definitely on the short list. Dr. DiNapoli's PA got to be in on my surgery," she says with a big smile. "It was very cool."
~ Cindy Starr
Hope Story Disclaimer -"Makenzi's Story" is about one patient's health-care experience. Please bear in mind that because every patient is unique, individual patients may respond to treatment in different ways. Results are influenced by many factors and may vary from patient to patient.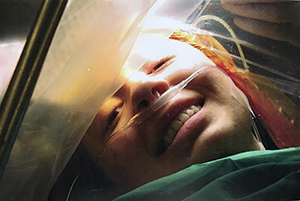 "I'm back into life with school and back to normal," she says. "It's as if the brain tumor never happened."