Joseph's story
Acoustic neuroma
Growing symptoms led patient to choose skull base surgery
Joseph just wanted to be able to maintain his hearing.
Starting early in 2021, it had become a problem. Voices sounded to him like he was under water. He had trouble hearing even normal conversations clearly. The headaches were coming more often.
Joseph consulted with his primary care doctor, then with an audiologist. The pain got worse, "like an ice pick jabbing into me." He already was having regular MRI exams, the product of a car accident years ago that had identified a tumor – a left vestibular schwannoma, also known as an acoustic neuroma, that affects the nerves leading from the inner ear to the brain.
The tumor had been monitored for years. But Joseph's symptoms indicated, and a new MRI confirmed, that it had grown and was now about the size of a large grape. Joseph faced several options: continuing with nonsurgical treatment, radiosurgery that would target the tumor with beams of radiation to control any further growth, or surgery to remove the tumor.
To preserve his ability to protect his hearing long-term, Joseph chose the skull base surgery.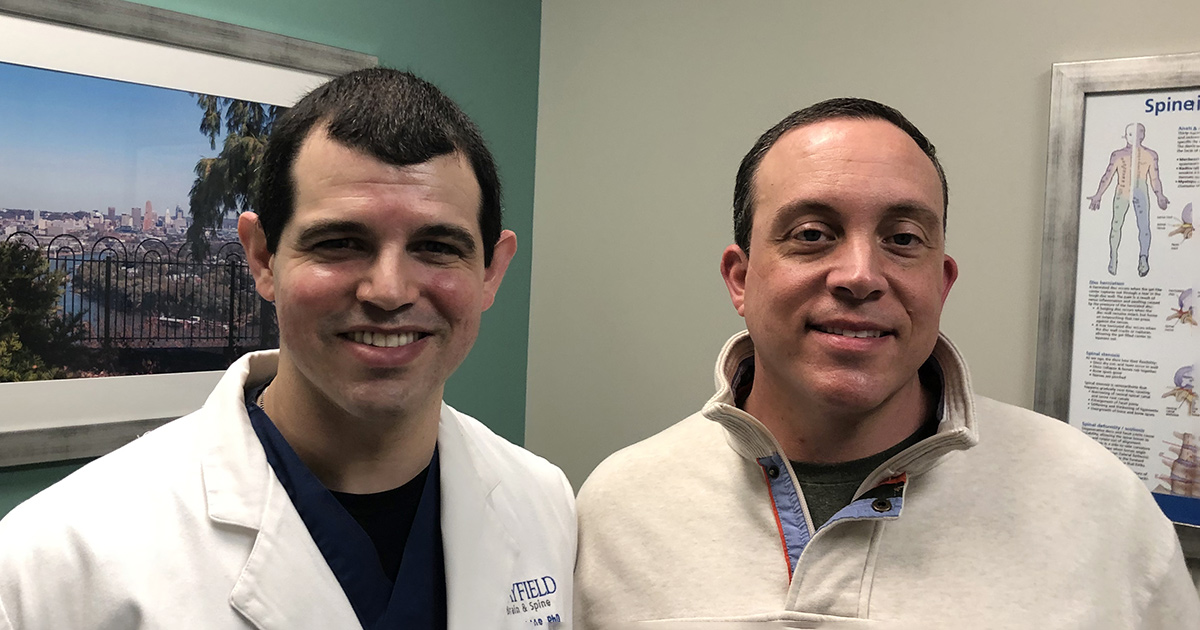 Dr. Gozal and Joseph
"What I really wanted to guard against was a degradation in my hearing," he said. "To be frank, that was a lot scarier than having surgery."
Mayfield Brain & Spine neurosurgeons Dr. Yair Gozal and Dr. Vince DiNapoli, working as a team, performed the complex surgery at The Jewish Hospital – Mercy Health. The Brain Tumor Center at The Jewish Hospital is a partnership of Mayfield neurosurgeons, staff and physicians at Mercy Health and the oncology specialists at OHC. After surgery, Joseph overcame his headaches and returned to work as a management analyst within about a month. He estimates that his hearing is "pretty close to 100 percent," as it had been prior to surgery, and he's feeling better each day.
Choosing between different types of treatments, or even different types of surgery, is common among neurosurgery patients. Dr. Gozal said he recommended the skull base surgery to remove the tumor because Joseph's symptoms had progressed to a point where they were having a substantial impact on his daily life – and the tumor continued to grow.
"Though he was a candidate for radiosurgery," explained Dr. Gozal, "surgery to remove the tumor can provide a solution that preserves long-term hearing because of his young age and excellent hearing. When you get the tumor out, it doesn't tend to come back, which is a cleaner solution for young patients. The key is getting the tumor out and protecting the important structures around it."
Joseph said the staff at The Jewish Hospital was "amazing – very caring and thorough."
"Dr. Gozal was confident in the team approach," he said. "He told me that if everything went well, I should not have significant hearing issues. Ultimately, that's exactly what happened."
Dr. Gozal said the multidisciplinary approach of the Brain Tumor Center had helped make surgeries like Joseph's safer and more precise.
"The tumor had doubled in size in two years, so we decided to go and get the tumor out," Dr. Gozal said. "While the approach to surgery has remained the same, we are so much better at protecting the patient's long-term health and achieving excellent outcomes safely. That was our primary concern with Joseph."
~ Cliff Peale
Hope Story Disclaimer -"Joseph's story" is about one patient's health-care experience. Please bear in mind that because every patient is unique, individual patients may respond to treatment in different ways. Results are influenced by many factors and may vary from patient to patient.