Brian's story
Herniated lumbar disc
Brian remembers slowly becoming aware of his surroundings in the hospital after his latest back surgery this fall.
"I woke up," he says, "to Dr. Krueger standing right by my shoulder."
Dr. Bryan Krueger, a Mayfield Brain & Spine neurosurgeon, performed a revision microdiscectomy on Brian in October. It was a second opinion from Dr. Krueger, after an orthopedic surgeon recommended treating Brian's reherniated disc by fusing together both his L5-SI vertebrate along with the L4-L5 vertebrate. Instead, Dr. Krueger recommended a more targeted solution: navigating through the scar of his previous surgery and removing only the fragments of the disc that were putting pressure on the nerve in his spine.
At 45 and wanting to continue exercising and playing sports with his four children, Brian welcomed the less invasive option. He went home the same day as his surgery. Today, he feels able to live his normal life, "with some modifications."
"I'm appreciative," he says. "I'm glad I went for the second opinion. I'm glad Dr. Krueger was willing to try a less-drastic procedure and was confident he could do it. Of course, I had to trust him. I liked the confidence he showed during that first visit.
"I hope it's business as usual for me from now on," he adds. "I'm not going to be doing squats or deadlifts with my son anymore, but I can pretty much do what I need to do."
Dr. Krueger says a congenital defect in Brian's spine at the level above his herniated disc, called spondylolisthesis, is why the other surgeon recommended a two-level lumbar fusion. It was the reherniation that was causing the radiating pain and numbness down Brian's left leg. The unusual combination caused Dr. Krueger to conclude that a revision microdiscectomy would be a simpler, less invasive procedure that would shrink Brian's recovery time and allow him the pain relief he was seeking.
"It's always in the patient's interest to consider the least invasive option," Dr. Krueger says now. "I felt the two-level fusion was unnecessary. I understand how another surgeon may justify it, but the redo-discectomy completely solves Brian's current problem. Now he's thrilled."
Brian has had two back surgeries. He has lived in Greater Cincinnati since college, and he often travels for work. He first started noticing symptoms about eight years ago, starting out with pain in his right hip, which gradually worsened and spread to the left side and his lower back. In late 2018, Brian was lifting weights with his son and felt like he pulled a muscle in his lower back. He suffered through the symptoms for several months before his initial surgery, a microdiscectomy with another surgeon in November 2019.
That surgery worked well enough that Brian started running again, several days a week. But in July 2020, he was kneeling over doing yard work when suddenly, "It felt like I got hit in the lower back by a baseball bat."
Unlike his previous back discomfort, pain was radiating down his left leg, along with numbness, tingling and weakness. He was unable to bend forward or sit down for a full dinner with his family. The numbness scared him.
"I was afraid I had undone something," Brian says. "The more I read about it, the more I worried that there might be some long-term nerve damage going on."
Brian's orthopedist recommended a two-level lumbar fusion, a more serious surgery that involves removing the damaged disc that was pinching the nerve and putting in a bone graft to fuse three bones together.
Brian decided that he needed a second opinion, so he Googled "neurosurgeon" and "Cincinnati" – and became aware of Mayfield Brain & Spine.
After a revision discectomy performed by Dr. Bryan Krueger of Mayfield Brain & Spine, Brian is able to enjoy pain-free life with his wife Shelly.
He called Mayfield's Initial Care line, designed to efficiently connect patients with the provider most appropriate for their specific needs, and was connected with Brittany, an Initial Care specialist. She and Brian reviewed his symptoms and previous treatment, and she arranged for an appointment with Dr. Krueger.
"I told him I could book him with one of our neurosurgeons, especially since he was experiencing numbness and weakness in his leg," Brittany says. "I also requested his previous imaging so Dr. Krueger could review it before the appointment."
Brian says Dr. Krueger was familiar with his case even before he walked into their appointment.
"He came in and he had read all of the details in my file, and I felt like he already understood what was going on," Brian says. "He said something I still remember. He said, 'The MRI is a revolutionary diagnostic tool. But until you get in there and see it, you're not sure what you're going to find.'"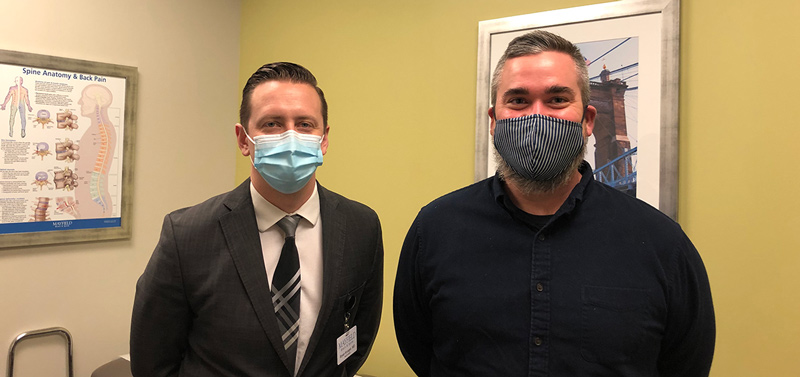 Mayfield Brain & Spine neurosurgeon Dr. Bryan Krueger with his patient, Brian, at an appointment in Mayfield's Norwood offices.
Dr. Krueger recommended the microdiscectomy, and Brian agreed. He underwent the surgery at The Christ Hospital, but not before the Mayfield neurosurgeon helped in another way. Brian's insurance company had declined coverage. Dr. Krueger called the insurer and the physician who was reading Brian's MRI, and the insurer amended the claim to allow coverage.
After two back surgeries, Brian knows his back may flare up again someday. If he needs more back surgery, he already knows what he will do.
"I'll go to Dr. Krueger at Mayfield," he says.
~ Cliff Peale
Hope Story Disclaimer -"Brian's Story" is about one patient's health-care experience. Please bear in mind that because every patient is unique, individual patients may respond to treatment in different ways. Results are influenced by many factors and may vary from patient to patient.