Becky's story
Berlotti Syndrome
Surgeon's expertise helps Becky overcome little-known spine condition
Becky remembers her first visit with Dr. William Tobler. After consulting with a seemingly endless stream of doctors and specialists for back and hip pain on her left side, she found the Mayfield Brain & Spine neurosurgeon.
Dr. Tobler took one look at Becky's X-ray – "Then he wrote down, 'Bertolotti syndrome,'" Becky recalls.
Another scan soon confirmed that she did suffer from Bertolotti, an uncommon and often-missed congenital defect in the lower spine present in fewer than 10 percent of patients.
"I was just thrilled, because someone was finally giving me a reason," she says. "You sort of start thinking that you're going crazy, because nobody's finding a reason for this horrible pain."
Dr. Tobler started his Mayfield practice in 1985, making him one of the most experienced neurosurgeons in the nation. He says he had seen patients with the defect before, but had never performed the operation.
"We knew there had to be a cause for the pain that Becky had suffered for years," Dr. Tobler says. "When I first saw her scans, we identified something different in the transverse process at the L5 level of her spine. Additional tests identified it as Bertolotti syndrome. Once we correctly identified the problem, the recommended surgical intervention was clear."
CT scan (left/top) shows the transverse process abnormally joining the sacrum, which pinches the nerve and stresses the SI joint (right/bottom).
In patients with Bertolotti syndrome, the transverse process, a bony projection off the side of each vertebra, is abnormally large and touches the sacrum to form a joint than can impinge nearby nerves. Among the small number of patients who have Bertolotti syndrome, fewer than 10 percent suffer any symptoms. Those effects can mimic the symptoms of more common conditions like a pinched nerve, a herniated disc or lumbar radiculopathy, meaning the true cause of the pain is often missed or misdiagnosed.
Becky certainly suffered symptoms. The pain down her left side never went away for long, leading to rounds of magnetic resonance imaging tests, steroids, injections and other treatments. By late 2021, the pain had increased to the point where she would lie down in the back of her family SUV while someone drove her to errands or doctors' appointments.
"It felt like lightning bolts going down my left side into my toes," she recalls. "I'm not an alarmist, but it was happening more and more."
On one of the countless doctors' visits in the Dayton area, where she lives, one provider told Becky they had seen something on her MRI, but that "the pain shouldn't be that bad." That led to a referral to Dr. Tobler at Mayfield Brain & Spine in Cincinnati.
"For years, no one could figure out what was wrong," Becky says. "Dr. Tobler diagnosed me the first time he saw me. It was amazing."
On the day after Thanksgiving in 2022, Becky underwent the surgery at The Christ Hospital. Dr. Tobler excised the abnormal joint at the L5 level of Becky's spine using an image-guided surgical platform. Image guidance gives the neurosurgeon greater precision in identifying the spot where the nerve is impinged and repairing the damage.
"Bertolotti syndrome is the overgrowth of the transverse process at the L5 level, forming a joint with the sacrum," Dr. Tobler says. "We cut out enough of the bone extension and removed the joint, creating a space for the nerve."
This spring, Becky is able to walk on a Florida beach without pain and watch her grandchildren. She's working through physical therapy, and Dr. Tobler has told her that it could take several months for the nerve to be fully repaired.
After surgery, Becky didn't even require pain medication. On the ride home from the hospital, she was able to sit upright – in the front seat.
"I immediately started smiling," she says.
~ Cliff Peale
Hope Story Disclaimer -"Becky's Story" is about one patient's health-care experience. Please bear in mind that because every patient is unique, individual patients may respond to treatment in different ways. Results are influenced by many factors and may vary from patient to patient.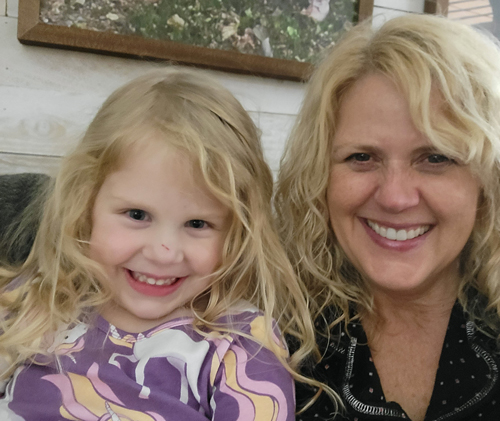 Becky with her granddaughter
"I was just thrilled, because someone was finally giving me a reason" ~ Becky