Abby's story
Arteriovenous Malformation (AVM)
Brain surgery helps young mother and baby survive harrowing experience
The incident on a Monday afternoon in January frightened Abby. Only 22 years old, she couldn't feel her right side. Her speech started to slur. She had trouble moving her hands and feet.
And one other thing – she was 35 weeks pregnant.
"I started to feel numb on my right side," Abby recalled. "My parents thought it was the baby. I was terrified. I couldn't really speak."
The Glencoe, Ky., resident had experienced an intraparenchymal hemorrhage – bleeding in the brain because of a ruptured blood vessel. An ambulance took her to the nearest hospital, and then she was taken to Good Samaritan Hospital in Cincinnati. In quick succession over the next several days, her son Everett was delivered by cesarean section, and Mayfield neurosurgeon Dr. Jonathan Hodes operated to repair a ruptured artery caused by a tangle of blood vessels called an arteriovenous malformation, or AVM.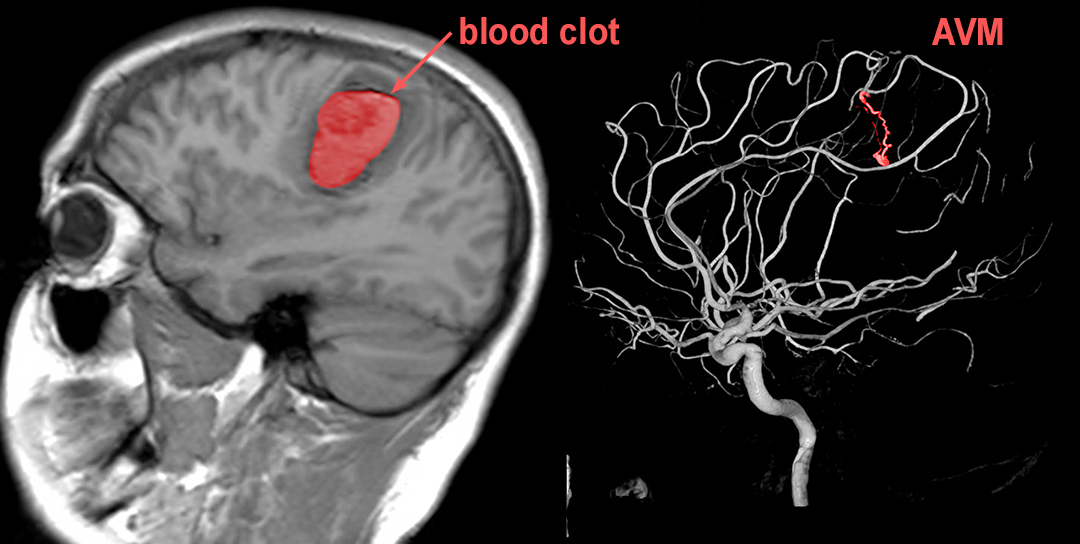 Scans showing Abby's blood clot and arteriovenous malformation (AVM)
Dr. Hodes said Abby's right side was paralyzed and her speech was compromised because the hemorrhage was near the motor speech, sensory and movement areas of her brain. In this emergency situation, the medical team wanted to restore function quickly, so she could care for her child and live a normal life. First came the C-section delivery, followed immediately by an angiogram to evaluate a source of the bleeding.
For the surgery, Dr. Hodes chose a novel technique to minimize brain trauma and improve Abby's chances for a positive outcome: the "Brain Path" approach that involves a 1.5-inch incision and a tube placed through the valleys in the brain surface to reach the hemorrhage.
"In this case, we factored in the health of the baby and tried to give Abby good information to reduce uncertainty and anxiety," Dr. Hodes said. "By removing the AVM and the blood clot, we eliminated the chance for additional bleeding and reduced the pressure on the surrounding brain tissue."
A few months later, Abby and her baby are home and doing well. She is back driving and said the sensation in her right side is getting much better. She's completing a college degree this fall and looking forward to life as a mom.

Abby, with husband Carson
"We're new parents, and we were excited to bring the baby home, but nervous," she said, getting the words out steadily but carefully. "I feel like I'm improving. I think I'm always going to have a weird sensation, but I am getting my independence back."
Abby said after this experience, her faith has grown stronger.
"I'm now living life with a more grateful heart, and I want to help others in any way that I can," she said.
Abby and her husband Carson remember their first meeting with Dr. Hodes at the hospital, when he changed his voice into different personas – Dracula was their favorite – to break the tension. At one point he even broke out in song."
He told me he was going to treat me like his own daughter," Abby said. "He sang me to sleep. I remember that. That was really comforting."
Dr. Hodes said the quick removal of the AVM and blood clot played an important role in Abby's remarkable recovery. Given her young age, the medical team will monitor her brain with MRI scans every few years to make sure nothing else goes wrong.
Abby and son, Everett
"The day after surgery, she was talking better and moving her arm and leg," he said. "Nearly all patients who have this type of complete removal of an AVM have no further problems. I am ecstatic about Abby's result. She has come so far from her first day in the hospital. Now, I can't recognize any problem with her speech, her balance is normal, and there is no residual weakness. Wow, just wow!"
An arteriovenous malformation is an abnormal tangle of blood vessels in the brain or spine. While some AVMs pose minimal risk, others cause severe and devastating effects if they bleed. Treatment options range from conservative monitoring, Gamma Knife radiosurgery, embolization through an endovascular approach, open surgery or combinations of treatment. Once a hemorrhage has occurred, the AVM is nine times more likely to bleed again during the first year, and 10% or more of patients do not survive the first hemorrhage.
This dramatic story shows the complex process and partnerships required for the lifesaving treatment of strokes, aneurysms and other neurovascular emergencies like ruptured AVMs. Mayfield neurosurgeons serve patients in hospitals around the region, and Good Samaritan Hospital is a Comprehensive Stroke Center with the highest level of certification from the Joint Commission.
Along with the region's leading health systems, Mayfield is helping to build a regional stroke network that will help patients get to facilities that can provide the best treatment. For example, physicians at The Jewish Hospital – Mercy Health and TriHealth's Bethesda North Hospital can perform thrombectomy procedures to remove blood clots from the brain with the "Thrombectomy-Capable Stroke Center" certification. Mayfield neurovascular surgeons operate at all these hospitals.
~ Cliff Peale
Hope Story Disclaimer -"Abby's story" is about one patient's health-care experience. Please bear in mind that because every patient is unique, individual patients may respond to treatment in different ways. Results are influenced by many factors and may vary from patient to patient.