Spine Athlete ::: Shannon's Story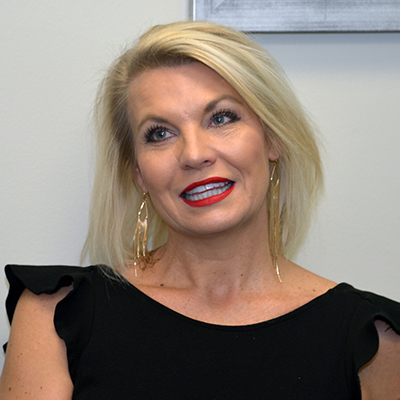 Diagnosis: Spondylolisthesis
Treatment: Anterior lumbar interbody fusion (ALIF) at L4-L5 in 2018
Neurosurgeon: Zachary Tempel, MD
Initial injury: I've been dancing since I was 2 years old. I own a dance studio and I jump around for a living. I'm a former Ben-Gal. That's 44 years of pounding. I was at the gym one day and I thought, "oooh, that feels a little bit sore." Over the months the pain didn't go away, and eventually I got tired of hearing myself say "ouch."
Turning point: I went to a neurosurgeon who diagnosed the condition. He put me in a brace for a while and prescribed physical therapy. But my back was not going to heal on its own. This doctor was no longer doing surgery, so he passed me on to another surgeon who said, "Surgery for you would be too intense, and your recovery would be way too hard. You would have repercussions for the rest of your life. I have to send you back to the pain clinic." At that point I thought, "I've got to find someone else; I don't want to be in the pain clinic rest of my life."
As it turned out, my best friend had surgery with Dr. Tempel just a year prior, and she highly recommended him. When I met him – he already had my MRIs and x-rays – he said I had classic symptoms. My x-rays showed that when I flexed forward, I had a pretty unstable segment at L4-5. He said that he could do my surgery with "his eyes closed," that I'd be in and out of the operating room. He would approach the problem through my abdomen and wouldn't need to touch the nerves in the spine. It was amazing. They do a little fusion and off you go.
Being a spine athlete: I had to remain patient and let my body heal properly. I'm a go-getter and not used to sitting. But I also believe in life lessons, and my injury was God's way of telling me to slow down. Three months post-surgery I had zero restrictions on anything, and I was back to working out in the gym and teaching at my dance studio, Gotta Dance, in Western Hills. Thank you, Dr. Tempel. I'm a totally new person.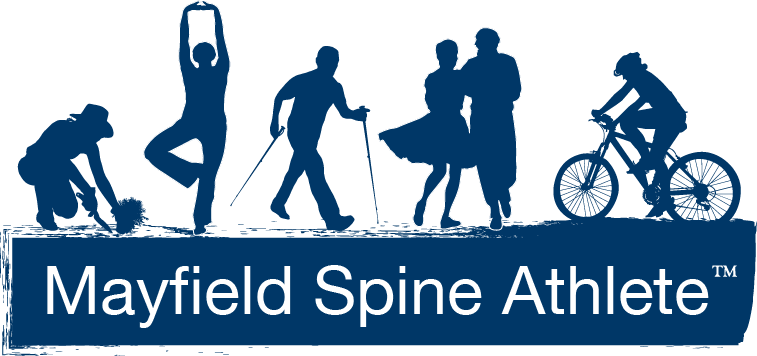 If you are a current or former Mayfield Spine Athlete yourself, and if you'd like to share your story, please contact us.
Spine Athlete Story Disclaimer -"Shannon's Story" is about one patient's health-care experience. Please bear in mind that because every patient is unique, individual patients may respond to treatment in different ways. Results are influenced by many factors and may vary from patient to patient.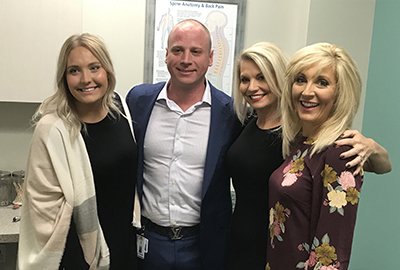 A Local 12 TV segment by Health Reporter Liz Bonis featured Shannon and her daughter, Olivia, and their successful ALIF spine surgeries. From left: Olivia, Dr. Zach Tempel, Shannon, and Liz Bonis.