Spine Athlete ::: Chris's story
Herniated disc
Diagnosis: Disc degeneration and herniation. L5-S1
Treatment: Epidural steroid injections, followed by surgery to shave off disc material that was pressing on the sciatic nerve.
Neurosurgeon: Chris McPherson, MD
Initial injury: It was a sudden pain. I was out shoveling snow in my driveway and fell. After that, any time I picked up something, it hurt. It became this constant pain that wouldn't go away. Nothing brought relief.

Turning point: I saw Dr. McPherson first, and we discussed the pros and cons of surgery and versus epidural steroid injections. You hear these stories – "once you have back surgery you're never the same." So I opted for the epidurals. I had five of them. They helped for a while. They brought relief for anywhere from 3 to 4 weeks to 3 to 4 months. But it was like a band-aid. I'd work out and my back would go out again. This went on for a year and a half. The pain would go away and I'd feel great. I'd get back into my routine and then I'd throw it out again.
In December 2008 I had spine surgery. And had I known then what I know now, I would not have gone the epidural route. I would have just had the surgery. It went great. My recovery was a little long, but once I got through that I was able to slowly begin exercising.
Being a spine athlete: I've always been athletic. I did a few Flying Pig marathons. During the time I was struggling with my back, my weight started to creep up. Around the time of my surgery I started eating right and doing back exercises. Losing the weight relieved a lot of pressure on my back. In addition to exercising, I do a lot of yoga and try to keep my lower back strong and flexible. Exercise makes a world of difference. It's a stress reliever. I do something physical every day. I now weigh 206 pounds, down from a high of around 240.
I completed the Orlando Half Ironman (1.2-mile swim, 56-mile bike ride, 13.1-mile run) in 93-degree weather in May 2010 with absolutely no pain. I finished with a time of 6:07:25. I placed 186th out of 427 in my age division and, overall, 925th out of 2,444. Coming out of the swim I was in the top third, but my quads cramped up in the first quarter-mile of the run. Of course, I'm still pretty pleased with how I did. I never thought I would be able to compete physically after the surgery.
I continued competing in 2012 with NO PAIN --- well, at least no pain in the back. In July 2012 I competed in the Cincinnati Olympic Triathlon (1,500-meter swim, 40k bike ride, and 10k run) and placed first in my division (males 40-44) and 36th overall with a time of 2:25:57. And in August, I completed my first Ironman (2.4-mile swim, 112-mile bike, and 26.2-mile run) in a total time (including transitions) of 15:31:04. Later that month I was presented with the Sheriff's Challenge Coin by Sheriff Simon Leis. In congratulating me, Sheriff Leis said, "Congratulations to Ironman Chris for this outstanding achievement -- not bad for 42 (or younger for that matter). We also need to find the name of his back surgeon and thank him for a job well done."
Years later, no longer competing but still pain free, I echo that sentiment, and once again I say "thank you" to Dr. McPherson and his staff.
Spine Athlete Story Disclaimer -"Chris's Story" is about one patient"s health-care experience. Please bear in mind that because every patient is unique, individual patients may respond to treatment in different ways. Results are influenced by many factors and may vary from patient to patient.
"... had I known then what I know now, I would not have gone the epidural route. I would have just had the surgery. It went great."
---
Chris completed the Orlando Half Ironman in 93-degree weather in May 2010 and with absolutely no pain. Two years later he completed his first Ironman in Louisville.
---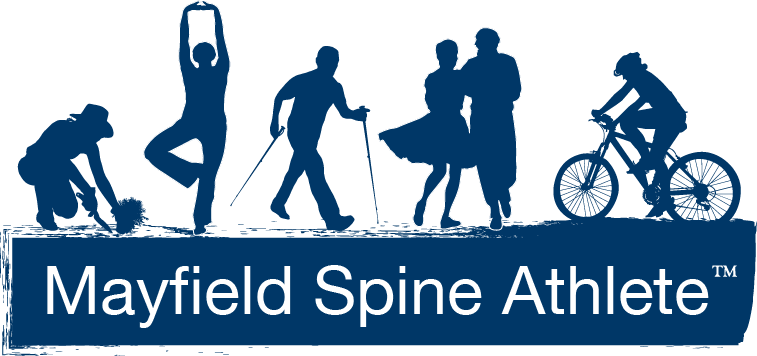 If you are a current or former Mayfield Spine Athlete yourself, and if you"d like to share your story, please contact us.