Remembering Charles Kuntz, IV, MD: Miracle Worker
Dr. Charles Kuntz, IV, known fondly by his friends as Charlie, served the Cincinnati community for 15 years with a level of skill achieved by few people in the world. A neurosurgeon at the Mayfield Clinic and the University of Cincinnati Neuroscience Institute, he rebuilt spines during marathon neurosurgical procedures, sometimes over a period of days. His patients, whose complex deformities and curvatures were so severe that they could no longer stand up straight or look their friends in the eye, viewed him as a miracle worker who saved their lives.
A model of persistence and perfectionism, Dr. Kuntz strived for optimal spinal alignment with the finest cosmetic symmetry, even in his most disabled patients. "It's a big deal when you help someone become a person who's not only attractive to others, but also attractive to himself or herself," Dr. Kuntz once said.
Dr. Kuntz passed away suddenly on February 26, 2015. He will be deeply missed by his family, friends, patients, and Mayfield colleagues.
Dr. Kuntz was born and raised in Cincinnati. He graduated with honors from Cincinnati's St. Xavier High School and was a chemistry scholar at the College of the Holy Cross in Worcester, Mass., graduating magna cum laude and earning induction into Phi Beta Kappa. He received his medical degree from Case Western Reserve University School of Medicine in 1991 and was inducted into Alpha Omega Alpha, the national medical honor society. He performed his residency at the University of Washington and completed orthopaedic and neurosurgical fellowships in London and Seattle.

His 13 years of medical training complete, he joined the Mayfield Clinic, the UC College of Medicine, and the Neurotrauma Center at the UC Neuroscience Institute in 2000.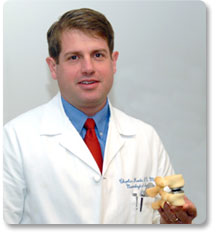 Dr. Kuntz became a full Professor of Neurosurgery at UC in 2011. He served on education and research committees at UC and directed the university's spine fellowship. On a national level, he served on the board of the American Association of Neurological Surgeons/Congress of Neurological Surgeons Section on Disorders of the Spine. He was a principal or co-investigator in 145 peer-reviewed journal articles; he trained dozens of neurosurgical residents and spine fellows; and he gave more than 100 invited lectures in his areas of expertise.
In what was perhaps the highlight of his academic career, Dr. Kuntz led the creation of a new classification system that defined spinal deformity in relation to the healthy, normal curve of the spine. His work was published in the journal Neurosurgery in 2008.
Dr. Kuntz has been honored with a listing in the national database of Best Doctors in America® since 2005. In October 2014, he was named nationally outstanding in the Castle Connolly Top Doctors list, which was developed by U.S. News & World Report in collaboration with Castle Connolly Medical Ltd., publisher of America's Top Doctors®. Dr. Kuntz has appeared in Castle Connolly's Top Doctors listing since 2011, and he has appeared in Cincinnati Magazine's regionally developed list of top doctors since 2007.
Dr. Kuntz was a member of the Cincinnati Business Courier's Forty under 40 class of 2005, and he was a finalist at the Courier's Health Care Heroes awards, in the innovator category, in 2009.
Away from the operating room, Dr. Kuntz enjoyed reading, sailing, attending fine arts performances, and serving on the board of his beloved Cincinnati Opera. The father of two children, he previously served as a Cub Scout den leader and participated as a foster parent. He was a champion of racial diversity, and he was committed to the prevention of spinal cord injury. Every spring he helped promote the rules of safe diving.

Dr. Kuntz performed dozens of spinal deformity cases a year. He treated patients whose spinal deformity was so severe that their chin was affixed to their chest and they couldn't stand for more than a few minutes. In such cases, Dr. Kuntz once reflected, the patient might have difficulty eating or breathing, might be unable to work, and might have begun to withdraw from friends and community.
Medical names for these conditions included significant scoliotic, kyphotic, and scoliokyphotic deformity. He frequently performed spinal deformity surgery in two or three stages over a period of days. "It is a big procedure," Dr. Kuntz once said. "We may need to make a long incision and take wedges of bone out of the spine or possibly put rods in and crack the spine; you may actually hear a pop when you do this in the operating room."
The procedure carries the risk of paralysis, he said, but the benefits were revolutionary. "We ask a patient to accept a significant risk for a significant gain. The patient may be living in misery and isolation. If the patient is able to accept the risk, he or she can basically be returned to normal or near-normal spinal alignment. No matter what outcome measure you use – the outcomes are dramatic."
Dr. Kuntz will be forever recognized for his knowledge, expertise, and neurosurgical skill.  But for those of us who had the privilege of knowing him personally, he will be forever remembered for his compassion, his generosity, and his unwavering belief in the human spirit.  Rest in peace, Dr. Kuntz.
Charles Kuntz, IV, MD
1964-2015
Click the button below to read tributes to
Dr. Kuntz from patients and colleagues or to leave comments of your own.

Related patient stories:

Margie's Story, complex spinal disorders

Dr. Kuntz at left, with friend and fellow
Mayfield neurosurgeon Dr. Mario Zuccarello