Physician spotlight: Dr. George Mandybur
Specialist in the treatment of movement disorders, epilepsy, and pain syndromes
George Mandybur, MD, is a board-certified neurosurgeon with Mayfield Brain & Spine. His subspecialty involves the treatment of functional disorders, including Parkinson's disease, essential tremor, dystonia, and epilepsy. He also provides surgical treatments for people who suffer from chronic pain.
Dr. Mandybur, who grew up in Finneytown, Ohio, earned his medical degree at the University of Cincinnati and performed his neurosurgery residency at Loma Linda University in California. He completed special training in movement disorders and surgical pain management at Loma Linda and the University of Mississippi Medical Center.
Over a period of 20 years, Dr. Mandybur has performed more than 1,000 surgeries for movement disorders. He says that the experience of seeing a patient's hand tremor disappear during surgery "never gets old."
Actively involved in research and publishing in peer-reviewed journals, Dr. Mandybur is always striving for better treatments and outcomes. He is also the ultimate "team player." Friendly and outgoing, he enjoys working with many different types of individuals and companies. He nurtures longtime relationships with area neurologists and other Parkinson's specialists from different health systems.
He also works collaboratively with a variety of device makers that are continually innovating and improving technologies that help patients cope with movement disorders, seizure disorders, or pain. In many cases, device companies invite Dr. Mandybur to be among the first in the country to implant a device that has been newly approved by the Food and Drug Administration (FDA).
Dr. Mandybur is currently helping to develop a new state-of-the-art deep brain surgery program at The Jewish Hospital – Mercy Health. In early 2019 The Jewish Hospital became the first adult hospital in the Cincinnati region to offer deep brain stimulation surgery to patients while they are asleep. The Jewish Hospital program also includes intra-operative imaging Airo CT technology and updated BrainLab navigation software.
Dr. Mandybur is a board member of the Mayfield Education & Research Foundation. He was a Cincinnati Opera trustee from 2016 to 2018; he was co-chair of Serve an Ace for Parkinson's in 2013; and he was an active volunteer in the Sunflower Revolution bike ride and symposium from 2004 to 2017.
A "Renaissance man" who enjoys literature, classical music, and athletics, Dr. Mandybur is known to play a highly competitive game of tennis in his spare time. He and his wife, Lina Mandybur, DDS, are the parents of two children.
~ Cindy Starr

Dr. Mandybur says that the experience of seeing a patient's hand tremor disappear during surgery "never gets old."
---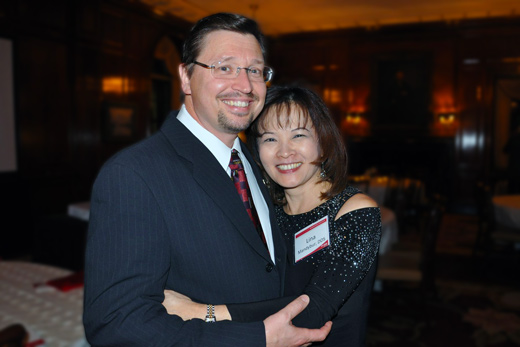 Dr. Mandybur with his wife, Lina Mandybur, DDS.
---

Above - Dr. Mandybur at a recent "Putting for Parkinson's" event.