Neurosurgery residents honored with Dunsker, Tew, Zuccarello research awards
CINCINNATI –Jennifer Kosty, MD, a fifth-year resident in the Department of Neurosurgery at the University of Cincinnati (UC) College of Medicine, is the 2017 winner of the Ellen and Stewart B. Dunsker, MD, Award for Clinical Research.
Graduating Resident Steven Gogela, MD, is this year"s winner of the John M. Tew, Jr., MD, Award for Neuro-Oncology Research. And Christopher Carroll, MD, a fifth-year resident, is the winner of the first Gabriella and Mario Zuccarello, MD Award for Cerebrovascular Research.
The awards, judged by members of the Department of Neurosurgery, were announced during the 34th Mayfield Neuroscience Symposium at the UC College of Medicine. The winners were awarded a cash prize ($2,000 for the Dunsker and Tew awards, $3,000 for the Zuccarello Award). The event coincided with graduation ceremonies for Dr. Gogela and Yair Gozal, MD, PhD.
Dr. Kosty was honored for her examination of 'Quadricortical parapedicular technique for instrumentation of small C2 pedicles: a technical note.'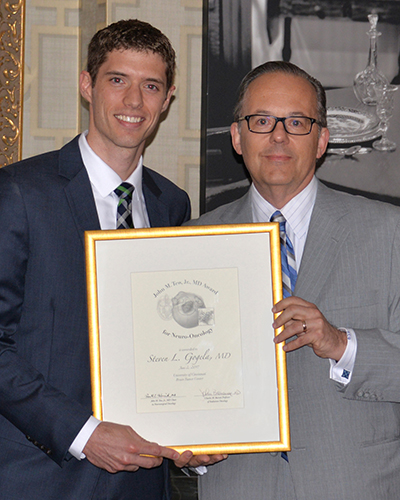 Dr. Gogela (pronounced Go-GELL-ah) was honored for "Dosimetric Predictors of Radionecrosis Risk in Gamma Knife Radiosurgery for Cerebral Metastases."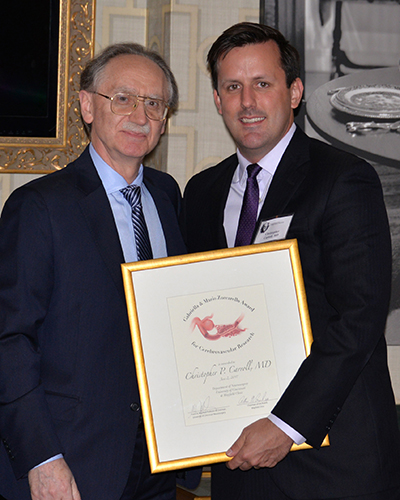 Dr. Carroll was honored for "Porcine Model of Early Cortical Infarction after Subarachnoid Hemorrhage."
The Dunsker, Tew and Zuccarello awards seek to spur research by neurosurgical residents at UC. Drs. Dunsker, Tew and Zuccarello are nationally recognized neurosurgeons who have had outstanding careers with Mayfield Brain & Spine and the UC Department of Neurosurgery.
Dunsker Award Winners
2008 Andrew Losiniecki, MD
2009 Andrew Grande, MD
2010 Ellen Air, MD, PhD
2011 Dean Hertzler, MD
2012 Chad Farley, MD
2013 Joseph Serrone, MD
2014 Ben Bixenmann, MD
2015 Daniel Harwell, MD
2016 Steven Gogela, MD
2017 Jennifer Kosty, MD
Tew Award Winners
2014 Christopher Sanders Taylor, MD
2016 Jennifer Kosty, MD
2017 Steven Gogela, MD
Zuccarello Award Winners
2017 Christopher Carroll, MD
---
Mayfield Brain & Spine is the full-service patient care provider of the Mayfield Clinic, one of the nation"s leading physician organizations for neurosurgical treatment, education, and research. With more than 20 specialists in neurosurgery, interventional neuroradiology, physical medicine and rehabilitation, and pain management, Mayfield Brain & Spine treats 25,000 patients from 35 states and 13 countries in a typical year. Mayfield physicians specialize in the treatment of back and neck pain, sciatica, Parkinson"s disease, essential tremor, NPH, epilepsy, brain and spinal tumors, stroke, moyamoya, brain aneurysms, Chiari malformation, scoliosis, kyphosis, facial pain, facial twitch, trauma, concussion, spinal cord injury, and carpal tunnel. As leading innovators in their field, Mayfield physicians have pioneered surgical procedures and instrumentation that have revolutionized the medical art of neurosurgery for spinal diseases and disorders, brain tumors, and neurovascular diseases and disorders.