Mayfield Foundation Presents The Art & Science of Healing: The Hippest Science Fair in Town
CINCINNATI -- The Mayfield Education & Research Foundation announces "The Art & Science of Healing," an annual fundraising and educational event, from 5 p.m. to 10 p.m. Saturday, March 11, at Carol Ann's Carousel and Anderson Pavilion.

Against the backdrop of Smale Park and the Ohio River, guests will have an opportunity to view and interact with the latest technology and advances in the neurosciences. Exhibits will include:
Immersive Touch, a virtual reality training device
The Crosstown Concussion Crew, an educational initiative developed by the TriHealth ThinkFirst Injury Prevention Program and funded by the Mayfield Foundation
The Mayfield Surgical Innovation Center, an initiative funded by the Mayfield Foundation
New Hope for the Musician, a testimonial to Mayfield Physical Therapy, by trombonist Norm Parr
The Art of Hearing Restoration, with Ravi Samy, MD, Director of the Adult Cochlear Implant Program at the University of Cincinnati Neuroscience Institute
Stryker instruments
Medtronic instruments
In addition to the educational exhibits, guests will enjoy performances by internationally acclaimed pianist Sergei Polusmiak and Mayfield brain tumor patient and soul singer Billi Nicol. Mr. Polusmiak will perform works by Liszt, Chopin, and Debussy. Ms. Nicol will perform with the band Vibe5.
Known as the hippest science fair in town, the event promises a rare and fully guided glimpse into the magnificent workings of the human brain while presenting innovative approaches to the care and feeding of body and mind.
The Art & Science of Healing is open to the public, with advanced registration required. General admission tickets are $75 each; contributing-level tickets are $200.
The event will bring together an estimated 250 guests, including current and former patients, families, friends, colleagues, physicians, clinicians, and healthcare and civic leaders.
The Mayfield Foundation, with $4 million in invested funds, has distributed in excess of $600,000 in research awards to local neuroscientists during the last three years. The foundation has also invested more than $500,000 to establish the Mayfield Surgical Innovation Center, which provides advanced training in new technologies to neurosurgeons from around the United States.
Presenting sponsors are The Carol Ann and Ralph V. Haile, Jr./U.S. Bank Foundation, The Christ Hospital, Mercy Health, TriHealth, and Mayfield Brain & Spine. Sponsorships begin at $1,000. For more information, please visit MayfieldFoundation.org/ArtandScience
---
The Mayfield Foundation is dedicated to the advancement of care and new treatments for patients with brain and spine disorders, to the prevention of neurological injury through community education, and to the development of neurosurgeons through ongoing training and education. Established in 1978, the Foundation mirrors and furthers the legacy and impact of the Mayfield Clinic.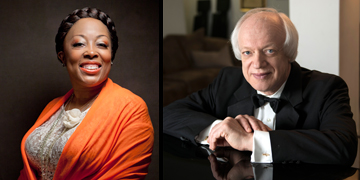 Soul singer Billi Nicol and concert pianist Sergei Polusmiak will perform at The Art & Science of Healing.
---
If you are interested in attending "The Art & Science of Healing" registration is currently open at MayfieldFoundation.org.
Join Us
---
The Art & Science of Healing
Saturday, March 11, at Carol Ann's Carousel and Anderson Pavilion
5pm-10pm