Crosstown Concussion Crew Debuts Peer-to-Peer Education at St. Ursula Academy
CINCINNATI- A new educational effort to raise awareness among middle school and high school students of the health implications of concussion was launched today at St. Ursula Academy in Cincinnati. The Crosstown Concussion Crew features a team of University of Cincinnati and Xavier University students, who have joined forces with concussion experts of the ThinkFirst Injury Prevention Program at TriHealth Sports Medicine and the Mayfield Clinic.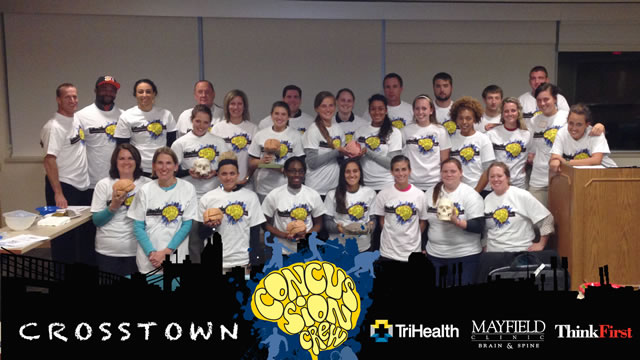 The Crosstown Concussion Crew Volunteers - Click for larger image
The Crew uses interactive, hands-on teaching methods to explain brain and skull anatomy, to demonstrate how a concussion can impact cognitive functioning, and to teach students how to identify a concussion when it occurs. A concussion is a mild traumatic brain injury caused by a blow or "ding" to the head. Common in falls, sports, and car crashes, concussions can temporarily affect the brain, causing confusion and problems with memory, speech, vision, or balance. The person may appear fine at first but may show symptoms hours or days later. If left undiagnosed, a concussion may place a person at risk of developing second-impact syndrome, a potentially fatal injury that occurs when an athlete sustains a second head injury before a previous head injury has healed. The best treatment is time to allow the brain to heal.
The Crosstown Concussion Crew focuses on not only recognizing concussion symptoms, but also taking the right amount of time to recover after experiencing a concussion. If students, parents and coaches begin to view concussions as a brain injury, and not as a temporary daze that can be "shaken off", the dramatic impact of concussions in our society can be greatly reduced.
Teaching tools include "concussion goggles," which help simulate the potentially debilitating effects of traumatic brain injuries caused by a bump, blow, or jolt to the head. Concussion goggles can be utilized to help people of all ages understand their susceptibility to brain injury.
The Crosstown Concussion Crew debut at St. Ursula Academy is the start of a multi-year educational effort by TriHealth's Think First program and Mayfield. Several more sessions are being scheduled at schools across the Tri-State. For more information or to schedule a program, contact the Think First Injury Prevention Program at 513 865-1742.
*******
The Mayfield Clinic, a single-specialty academic neurosurgery group, is recognized as one of the nation's leading physician organizations for clinical care, education, and research of the spine and brain. Supported by 20 neurosurgeons, an interventional radiologist, and a pain specialist, the Clinic treats 25,000 patients from 35 states and 13 countries in a typical year. Mayfield's physicians have pioneered surgical procedures and instrumentation that have revolutionized the medical art of neurosurgery for brain tumors and neurovascular diseases and disorders.