Mayfield Clinic celebrates 75 years of neurosurgical excellence With November 10 gala benefitting Mayfield Foundation
CINCINNATI – The Mayfield Clinic culminates a year-long 75th anniversary celebration with a gala fundraiser at the Hilton Cincinnati Netherland Plaza at 6 p.m. Saturday, Nov. 10. The 1930s-themed gala will raise funds for the Mayfield Education and Research Foundation, which has supported neuroscience research and educational programs for physicians and the community since 1978.
The Mayfield Foundation supports laboratory research, small-scale clinical studies, clinical trials, and the development of technologies that enhance surgical capabilities and patient outcomes. The Foundation also supports patient education and continuing education and training for neurosurgeons from around the world and at all stages of their careers.
In July 1937 Dr. Frank H. Mayfield established a practice dedicated to excellence in neurosurgical care, research, technical innovation, and education. That small office of three distinguished physicians has grown into an internationally known practice of 31 physicians and 150 associates. Mayfield attends to more than 25,000 patientseach year, removing brain tumors, stopping seizures, neutralizing aneurysms, and repairing injured spines. Mayfield has offices throughout the region and privileges at all major area hospitals.
"For 83 years Dr. Frank Mayfield of Cincinnati was a man for all people," said John M. Tew, Jr., MD, a Mayfield Clinic neurosurgeon and Clinical Director of the University of Cincinnati Neuroscience Institute. "Never exalted, he was able to inspire all he encountered with humility and creativity. We, his progeny, celebrate the impact of Mayfield the person and the Clinic that has proudly carried his values and name at home and around the world for 75 years."

All of Mayfield's physicians are either full- or part-time faculty members in the Department of Neurosurgery at the University of Cincinnati (UC) College of Medicine. The physicians they train work all over America and the world, from Paris and Milan to Istanbul and Tel Aviv. In collaboration with UC's Department of Neurosurgery, Mayfield is currently training 16 neurosurgical residents and eight fellows, who are honing their skills in subspecialties that include cerebrovascular (stroke), neuro-oncology (cancer), functional (epilepsy and Parkinson's disease) and spine.
These faculty members are also currently engaged in 27 clinical trials in the areas of brain cancer, stroke, Parkinson's disease, traumatic brain injury, and concussion. And in the area of basic science, Mayfield's colleagues in UC's Department of Neurosurgery are developing a new generation of brain monitoring and studying potentially deadly electrical disruptions known as "brain tsunamis." In 2011 these researchers were awarded $880,115 in grants from the U.S. Department of Defense.
The Mayfield Clinic's history is punctuated by innovation. Highlights include its advisory role in the development of seatbelts for automobiles; Dr. Frank Mayfield's invention of the Mayfield Clip & Clip Applier, which transformed aneurysm care; and the invention of the Mayfield Headrest and Skull Clamp System, which is still manufactured in Cincinnati and which accounts for 90 per cent of all headrest and skull clamp systems sold in the world today. Three of Mayfield's currently practicing neurosurgeons – Drs. John Tew, William Tobler and Mario Zuccarello – have developed or patented medical devices.
Dr. Mayfield might have profited handsomely from the sale of his medical instruments, which led to the formation of the Ohio Medical Instruments, Inc. Instead, he funneled profits from his inventions into a foundation that continues today.

Other innovations by the Mayfield Clinic include:
• 1987: Establishment of the Winter Clinics, an international educational symposium co-hosted each year with the Cleveland Clinic and Mayo Clinic and co-sponsored by the American Association of Neurological Surgeons.
• 1998: Co-development of the UC Neuroscience Institute, one of four institutes of UC Health. A leading treatment, research, and teaching center for complex neurological conditions, the Institute embraces nine collaborating centers and more than 100 faculty members from 15 clinical specialties.
• 2003: Co-development of the Precision Radiotherapy Center in West Chester, Ohio. Approximately $650,000 of the center's profits support brain tumor research and physician education here in Cincinnati each year.
• 2007: Co-founding of The Christ Hospital Spine Surgery Center, the first in the region to provide patients with same-day surgical procedures for diseases and disorders of the spine, in Norwood, Ohio, in 2007. To date, the center's physicians have treated 17,000 patients and have performed more than 5,000 surgical procedures and nearly 12,000 pain procedures with stellar outcomes and superb patient satisfaction.
• 2011: Founding of the Mayfield Chiari Center. One of the few comprehensive Chiari centers in the nation, it offers expert diagnosis and treatment of a neurological condition that is often misunderstood and misdiagnosed and that often goes untreated.
Individual tickets to the Mayfield Clinic 75th Anniversary Gala are $300 each. Table sponsorships begin at $3,500. For more information about the event, please contact Kelly Bollinger at (513) 569-5277 or kbollinger@mayfieldfoundation.org
* * *
The Mayfield Clinic, a single-specialty academic neurosurgery group, is recognized as one of the nation's leading physician organizations for clinical care, education, and research of the spine and brain. Supported by 21 neurosurgeons, six neurointensivists, an interventional radiologist, and a pain specialist, the Clinic treats 25,000 patients from 35 states and 13 countries in a typical year. Mayfield's physicians have pioneered surgical procedures and instrumentation that have revolutionized the medical art of neurosurgery for brain tumors and neurovascular diseases and disorders.
* * *
The Mayfield Education & Research Foundation exists to advance the care of patients with brain and spine disorders through leading-edge education and research.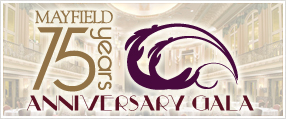 Gala Chairs are (at left) James McGraw (Hyde Park), a partner at Keating, Muething, & Klekamp PLL, and Dr. William Tobler (Hyde Park), a Mayfield Clinic neurosurgeon.
November 05, 2012
FOR IMMEDIATE RELEASE
CONTACT: Tom Rosenberger, APR
Communications Department
513-569-5260
Cindy Starr, MSJ
Communications Department
513-569-5236