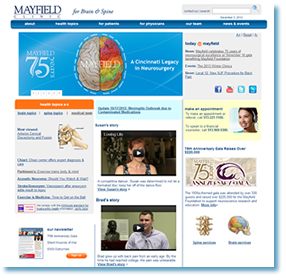 December 3, 2012
FOR IMMEDIATE RELEASE
CONTACT: Tom Rosenberger, APR
Communications Department
513-569-5260
Cindy Starr, MSJ
Communications Department
513-569-5236

Mayfield Clinic wins national awards for outstanding healthcare information and Internet site

---
CINCINNATI – The Mayfield Clinic has been recognized by the 2012 eHealthcare Leadership Awards for its outstanding health information Web site, mayfieldclinic.com.
The site received two awards:
Platinum Award for Best Health/Healthcare Content in the Medical Practice/Clinic class, and
Gold Award in Best Overall Internet Site in the Medical Practice/Clinic class.
The honors were presented during the 16th Annual Healthcare Internet Conference, which took place in Las Vegas. The eHealthcare Leadership Awards Program is a national competition that recognizes "the best Web sites and digital communications efforts of healthcare organizations, online health companies, pharmaceutical firms, and business improvement initiatives."
This year's program drew nearly 1,100 entries, which were evaluated by 115 individuals familiar with healthcare and the Internet. Judges examined how Web sites and digital communications compared with others in their organization's classification. Judges also reviewed entries based on a proprietary, multi-point standard of Internet excellence. The best overall Internet site category, for example, was evaluated on more than 40 factors.
In addition to the Mayfield Clinic, other platinum winners included the Cleveland Clinic, Mayo Clinic (Minn.), the University of Texas MD Anderson Cancer Center's I*Care Program, and Humana's My Diabetes Path. A complete list of winners can be viewed here.
"The Mayfield Clinic is proud of our ever-growing Web site, which has attracted more than 1.4 million unique visitors so far this year," said Mayfield CEO Mark Farrington. "We strive to serve as a complete neurosurgical resource by providing trustworthy, HONcode-certified patient education, detailed patient testimonials, and information that helps patients prepare for their appointments, find appropriate clinical trials, understand trends in research, and follow up with local support groups."
The Mayfield Communications Department is headed by Thomas Rosenberger, APR, Vice President of Communications. The communications team also includes Bill Jacobs (Webmaster/videographer); Tonya Hines, CMI, and Martha Headworth, MS (medical illustrators); Cindy Starr, MSJ, Kathy Brady, and Mary Kemper (writers/editors); and Christa McAlpin, Jillian Bollinger, Ali Willis, and Jo Shade.
Mark Gothberg, eHealthcare Leadership Awards Chairman, said that, "In spite of the unsettled healthcare environment, organizations have accelerated their investment in digital communications. Organizations have made major improvements in their Web sites, increased involvement in social media, more fully integrated newer media outlets with traditional marketing, and expanded mobile efforts to better serve current and future customers."
The eHealthcare Leadership Awards program was developed and first presented 13 years ago by eHealthcare Strategy & Trends, a leading industry resource published by Health Care Communications of Rye, N.Y. The Sixteenth Annual Healthcare Internet Conference was sponsored by Greystone.Net, an Atlanta-based strategy firm.
* * *
The Mayfield Clinic, a single-specialty academic neurosurgery group, is recognized as one of the nation's leading physician organizations for clinical care, education, and research of the spine and brain. Supported by 21 neurosurgeons, five neurointensivists, an interventional radiologist, and a pain specialist, the Clinic treats 25,000 patients from 35 states and 13 countries in a typical year. Mayfield's physicians have pioneered surgical procedures and instrumentation that have revolutionized the medical art of neurosurgery for brain tumors and neurovascular diseases and disorders.