International Vasospasm 2011 Conference Could be Springboard for Treatment Guidelines
CINCINNATI--Cerebrovascular experts from six continents will gather in Cincinnati this summer to discuss the science and clinical management of vasospasm, a dreaded, life-threatening complication of subarachnoid hemorrhage, while working toward an ambitious goal. They hope to generate the first set of guidelines in neurocritical care for the treatment of patients who have suffered a subarachnoid hemorrhage, or bleeding stroke.
The Mayfield Clinic, University of Cincinnati Department of Neurosurgery and UC Neuroscience Institute will host Vasospasm 2011: The 11th International Conference on Neurovascular Events after Subarachnoid Hemorrhage, July 21-23, at the Hilton Cincinnati Netherland Plaza.
Mario Zuccarello, MD, Chairman and Frank H. Mayfield Professor of the Department of Neurosurgery, and Joe Clark, PhD, Professor of Neurology, are the event's co-chairs. The conference is sponsored by the Mayfield Education and Research Foundation.
Previous sessions of the international conference, which is held every two to three years, have been held in Istanbul, Sydney and Tokyo.
Vasospasm (pronounced VAY-zoh-spasm) is a sudden spasm of a blood vessel, a phenomenon that occurs frequently after a ruptured aneurysm. When blood flows from the aneurysm into the subarachnoid space, a narrow, protective membrane around the brain, a subarachnoid hemorrhage (SAH) has occurred. Irritation resulting from the SAH can cause a nearby blood vessel to go into spasm and constrict. The closing down of the vessel, which can be likened to an open palm clenching into a fist, can lead to permanent brain damage or death.
Vasospasm remains mysterious and frustrating to doctors, who as yet have no optimal clinical management strategy. "Although improvements in neurocritical care have allowed us to make strides in managing vasospasm during the last few decades," Dr. Zuccarello said, "we remain firmly committed to finding effective new treatments. Vasospasm is a clear and obvious target because it is the leading, potentially treatable cause of death and disability following an aneurysm rupture."
The international conference will address clinical management strategies and basic science studies. The meeting will include plenary sessions, workshops and platform and poster presentations based on abstract submissions. Accepted abstracts will be published in a book dedicated to the late Frank H. Mayfield, MD, a UC professor and pioneer in neurosurgery who directed the graduate neurosurgical training programs at Christ and Good Samaritan hospitals from 1946 to 1977.

Awards to be presented at the meeting include Young Investigator, Bench to Bedside and Back Again, and The Next Big Idea.
For the first time, the conference will involve neurocritical care specialists, whose patients include those who have suffered a subarachnoid hemorrhage. "During the conference we will try to produce a white paper that is comprehensive enough that it will be accepted by physicians in neurocritical care, neurosurgery and neurology," Dr. Zuccarello said. "It is an ambitious goal."
The conference also will include investigators from the Co-Operative Study on Brain Injury Depolarizations. Jed Hartings, PhD, Research Assistant Professor in the Department of Neurosurgery, is an expert on spreading depolarizations, also known as spreading depressions. These electrical disturbances, similar to short-circuits, occur in up to 75 percent of patients who have experienced subarachnoid hemorrhages. "Depolarizations may cause permanent brain damage and could be a target for new therapies," Dr. Hartings said.
Honored Guests of Vasospasm 2011 are Tomio Sasaki, MD, Professor and Chairman of the Department of Neurosurgery at the Kyushu University Graduate School of Medical Sciences, in Fukuoka, Japan, and Costantino Iadecola, MD, Chief of the Division of Neurobiology at Cornell University. Invited Speaker is David Mendelow, MD, Professor and Chairman of the Department of Neurosurgery at Newcastle University in Newcastle upon Tyne, United Kingdom.
"This conference is a lot of fun and creates an opportunity for new ideas and cooperation," said Dr. Zuccarello, who has been an active participant since 1987. "It is a blend of science and clinical activities and friendships and good times."
* * *
The Mayfield Clinic is recognized as one of the nation's leading physician organizations for clinical care, education, and research of the spine and brain. Supported by 20 neurosurgeons, five neurointensivists, an interventional radiologist, and a pain specialist, the Clinic treats 25,000 patients from 35 states and 13 countries in a typical year. Mayfield's physicians have pioneered surgical procedures and instrumentation that have revolutionized the medical art of neurosurgery for brain tumors and neurovascular diseases and disorders.

The UC Department of Neurosurgery is one of the leading neurosurgery training programs in the United States. The department, chaired by Mario Zuccarello, MD, provides broad-based education for medical students, residents, and fellows, while offering continuing medical education for neurosurgeons worldwide. The department supports technical, clinical, and basic science research in the neurosciences.

The UC Neuroscience Institute, a regional center of excellence, is dedicated to patient care, research, education, and the development of new treatments for stroke, brain and spinal tumors, epilepsy, traumatic brain and spinal injury, multiple sclerosis, neuromuscular disorders, Alzheimer's disease, Parkinson's disease, disorders of the senses (swallowing, voice, hearing, pain, taste and smell), and psychiatric conditions (bipolar disorder, schizophrenia and depression).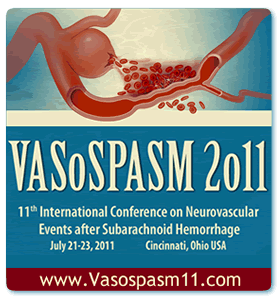 June 21, 2011
FOR IMMEDIATE RELEASE
CONTACT:
Cliff Peale
Communications Department
cpeale@mayfieldclinic.com
513-569-5236
---