Consensus themes emerge at gathering of global experts on subarachnoid hemorrhage and vasospasm
CINCINNATI - Cerebrovascular experts from 20 nations and six continents took important steps toward developing the first optimal clinical management strategy for vasospasm during Vasospasm 2011: The 11th International Conference on Neurovascular Events after Subarachnoid Hemorrhage, July 21-23, at the Hilton Cincinnati Netherland Plaza.

The event, sponsored by the Mayfield Education and Research Foundation, was hosted by the Mayfield Clinic, University of Cincinnati Department of Neurosurgery, and UC Neuroscience Institute. Mario Zuccarello, MD, Chairman and Frank H. Mayfield Professor of the Department of Neurosurgery, and Joe Clark, PhD, Professor of Neurology, were the event's chair and co-chair.

Over the course of three days, experts pondered the clinical and molecular mysteries of vasospasm, a dreaded complication of subarachnoid hemorrhage, or bleeding stroke. Sometimes called "the second stroke," or "the stroke after the stroke," vasospasm is a catastrophic narrowing of one or more arteries in the brain that typically occurs 7 to 14 days after the initial bleeding stroke.

The cascade of events begins when an aneurysm (a bulge in a blood vessel wall) ruptures, sending blood into a narrow, protective liquid membrane that cradles the brain and is known as the subarachnoid space. Resulting irritation, inflammation, and changes in brain chemistry can then cause a nearby blood vessel to go into spasm and constrict, producing the "second stroke." The closing down of the vessel - the vasospasm (pronounced VAY-zoh-spasm) -- can be likened to an open palm clenching into a fist and can lead to damaged brain cells, permanent brain damage, or death.

The conference sought creation of a comprehensive white paper that 1) establishes priorities for clinical trials in subarachnoid hemorrhage and vasospasm; 2) outlines optimal treatment; and 3) is accepted by physicians in neurocritical care, neurosurgery, and neurology. Although it remains a work in progress, consensus themes began to emerge at the conference, which drew 192 neurosurgeons, neurologists, nurses, and basic science researchers. Those themes include:

Recognition that mortality is more significantly linked to the severity of the initial injury rather than the vasospasm
Recognition that some early therapies, including control of blood pressure and control of blood glucose, can make a difference.
Creation of a more precise definition of vasospasm, which is also referred to as delayed cerebral ischemia (DCI) and delayed ischemic neurological deficit (DIND).
Creation of more precise measures of outcomes that reflect quality of life, employability, mood disorders, and personality changes.
More research is needed to assist our understanding of spreading depolarizations, electrical disturbances that spread through the brain like tsunamis and are associated with worse outcomes.
"This meeting has shown all of us that the outcome of our patients affected by subarachnoid hemorrhage will be improved only through the collaboration of clinicians and basic scientists," Dr. Zuccarello said.

John Zhang, MD, PhD, Professor of Basic Sciences, Anesthesiology and Neurology at Loma Linda (Calif.) University, stated that although vasospasm has dominated research into subarachnoid hemorrhage for the past 60 years, "nothing in that time has been shown that it can prevent or reduce vasospasm."

"To reduce overall mortality," Dr. Zhang said, "it is time to get neurologists and the intensive care unit back to subarachnoid research. We need to focus on early-phase injury."

"Time is brain," said Dr. Clark. "Too much emphasis has been placed on the late vasospasm pathology, which, while important, is sometimes too late to help the patient. Early intervention is key."

Drawing parallels to the scientific community's evolving approach to asthma, Rafael Tamargo, MD, Director of Cerebrovascular Neurosurgery at Johns Hopkins Children's Center, suggested that vasospasm research may be ripe for a new paradigm. "He pointed to the haptoglobin 2-2 genotype, which he said may be major determinant of vasospasm and delayed cerebral ischemia after subarachnoid hemorrhage. "Haptoglobin 2-2 promotes enhanced inflammatory response to red blood cells and hemoglobin," he noted. "This field is in its early stages; there are many opportunities to study delayed injury based on Hp 2-2."

Vasospasm remains mysterious and frustrating to doctors, who as yet have no optimal clinical management strategy, and researchers attending the conference. One neurosurgeon at the conference likened it to the dense smoke above a forest fire. Another described what we know about vasospasm as peaks above the clouds, with the vast mountains invisible below.

Their mission undeterred, conference participants voted to hold Vasospasm 2013 in Lucerne, Switzerland.
"Although improvements in neurocritical care have allowed us to make strides in managing vasospasm during the last few decades," Dr. Zuccarello said, "we remain firmly committed to finding effective new treatments. Vasospasm is a clear and obvious target because it is the leading, potentially treatable cause of death and disability following an aneurysm rupture."

The international conference included plenary sessions, workshops and platform and poster presentations based on abstract submissions. Accepted abstracts will be published in a book dedicated to the late Frank H. Mayfield, MD, a UC professor and pioneer in neurosurgery who directed the graduate neurosurgical training programs at Christ and Good Samaritan hospitals from 1946 to 1977.
Six awards for significant research were presented at the meeting:
Young Investigator: Ulf Schneider (winner) of Berlin and J. Adam Wilson, PhD (runner-up), a Fellow in the UC Department of Neurosurgery


Bench to Bedside: Johannes Woitzik (winner) of Berlin and Serge Marbacher (runner-up) of Switzerland


Next Big Idea: Hidenori Suzuki (winner) of Mie, Japan, and Nima Etminan (runner-up) of Dusseldorf, Germany

The conference also included investigators from the Co-Operative Study on Brain Injury Depolarizations (COSBID). These electrical disturbances, similar to short-circuits, occur in up to 75 percent of patients who have experienced subarachnoid hemorrhages. Researchers believe depolarizations may cause permanent brain damage and could be a target for new therapies.

Honored Guests of Vasospasm 2011 were Tomio Sasaki, MD, Professor and Chairman of the Department of Neurosurgery at the Kyushu University Graduate School of Medical Sciences, in Fukuoka, Japan, and Costantino Iadecola, MD, Chief of the Division of Neurobiology at Cornell University. Invited Speaker was David Mendelow, MD, Professor and Chairman of the Department of Neurosurgery at Newcastle University in Newcastle upon Tyne, United Kingdom.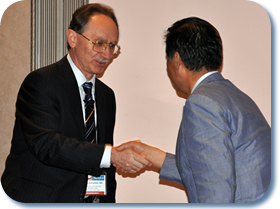 Above: Mayfield's Dr. Mario Zuccarello (left), welcomes keynote lecturer Dr. Tomio Sasaki, Professor and Chairman of the Department of Neurosurgery at the Kyushu University Graduate School of Medical Sciences, in Fukuoka, Japan. (photo by Cindy Starr)
July 26, 2011
FOR IMMEDIATE RELEASE
CONTACT:
Cliff Peale
Communications Department
cpeale@mayfieldclinic.com
513-569-5236
---