Mayfield Researchers Propose Classification of Outcomes following Study of Embolization of Wide-Necked Aneurysms with High-Tech Glue
CINCINNATI - Endovascular specialists with the Mayfield Clinic and the University of Cincinnati Department of Neurosurgery are investigating the problem posed by challenging, wide-necked brain aneurysms by filling them with a glue-like material known as Onyx HD 500. They are presenting results of their research this week at the International Stroke Conference 2011, the annual meeting of the American Stroke Association, in Los Angeles.
Mayfield researchers are presenting "A Proposed Classification for the Immediate Angiographic Results" of intracranial aneurysm treatment with Onyx®. No optimal angiographic result has been previously defined.
An aneurysm is a balloon-like bulge of an artery wall that can enlarge over time and ultimately rupture, causing a life-threatening stroke (Fig.1). Specialists treat a brain aneurysm by isolating it from the normal blood flow. Aneurysms can be surgically clipped at their base or filled with coils, provided they have a narrow neck. Wide-necked aneurysms are problematic because they cannot be clipped and because coils may not remain inside.
In 2008 Mayfield Clinic endovascular specialists, led by neurosurgeon Andrew Ringer, MD, began studying Onyx HD 500 as a treatment for wide-necked aneurysms. During the procedure, a flexible balloon catheter is threaded up from the large femoral artery in the upper leg (groin area) and advanced to an artery that leads to the brain (Fig. 1). The balloon catheter is placed over the aneurysm neck and inflated; a second flexible catheter then dispenses Onyx® into the aneurysm.
After the glue has solidified, the balloon is deflated and removed. With the aneurysm now filled with solidified glue, blood can no longer enter the arterial bulge and pose a risk of stroke.
"Embolization with OnyxHD 500 is an important therapeutic option," said Dr. Ringer. "We have been able to achieve high rates of complete occlusion, or blockage, of aneurysms. And upon follow-up at 6, 12 and 24 months, we have seen low rates of recurrence, even in the most difficult large and wide-necked aneurysms."
The U.S. Food and Drug Administration (FDA) gave the Onyx HD 500 Liquid Embolic System, manufactured by Ev3 Inc., a Humanitarian Device Exemption (HDE) for the treatment of wide-necked brain aneurysms in 2007. The approval is limited to aneurysms that cannot be treated with surgical clipping. (The FDA approved a different Onyx® product for the treatment of arteriovenous malformations in 2005).
The Mayfield researchers, who are among the most experienced in the country in using HD 500 to occlude intracranial aneurysms, are active in traveling and teaching other physicians in the use of this novel device.
At the Stroke Conference in Los Angeles, the Mayfield researchers are presenting a proposed classification system based on a retrospective study of 22 patients who were treated for wide-necked aneurysms between 2008 and 2010.
The best long-term protection against aneurysm recurrence, the Mayfield researchers propose, is associated with a "hat-brimming" outcome, in which the Onyx® spills slightly outside the aneurysm. Treatment that resulted in no Onyx® outside the aneurysm resulted in a recurrence in three patients at six months, while treatment in which Onyx® spilled into the parent artery was associated with arterial blockage in four patients.
"The hat-brimming Onyx® cast seems to confer the best long-term result and should be routinely sought," Dr. Ringer said. He added that larger-scale prospective studies are needed to confirm the preliminary data and validate Mayfield's grading system.
Dr. Ringer's co-investigators are Todd A. Abruzzo, MD, a Mayfield Interventional Neuroradiologist, and Department of Neurosurgery Fellows Ralph Rahme, MD (cerebrovascular) and Usman Khan, MD (interventional).

* * *
Disclosures: Dr. Ringer performs physician training and proctoring for Onyx HD 500 and receives compensation from ev3. Drs. Rahme, Abruzzo, and Khan have no financial connections to ev3.

* * *
The Mayfield Clinic is recognized as one of the nation's leading physician organizations for clinical care, education, and research of the spine and brain. Supported by 20 neurosurgeons, five neurointensivists, an interventional neuroradiologist, and a pain specialist, the Clinic treats 25,000 patients from 35 states and 13 countries in a typical year. Mayfield's physicians have pioneered surgical procedures and instrumentation that have revolutionized the medical art of neurosurgery for brain tumors and neurovascular diseases and disorders.

The UC Department of Neurosurgery is one of the leading neurosurgery training programs in the United States. The department, chaired by Mario Zuccarello, MD, provides broad-based education for medical students, residents, and fellows, while offering continuing medical education for neurosurgeons worldwide. The department supports technical, clinical, and basic science research in the neurosciences.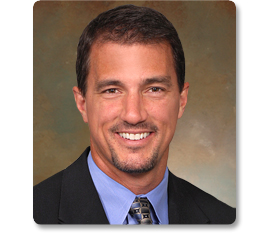 February 10, 2011
FOR IMMEDIATE RELEASE
CONTACT:
Cliff Peale
Communications Department
cpeale@mayfieldclinic.com
513-569-5236
---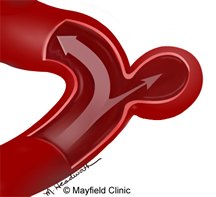 Figure 1. An aneurysm is a balloon-like bulge of an artery wall that can enlarge over time and ultimately rupture, causing a bleed in the brain.
Figure 2. Onyx® is a black, glue-like substance that fills the aneurysm and prevents blood from entering.