Graduating resident Ellen Air, MD, PhD, Wins Ellen and Stewart Dunsker, MD, Award
Award-winning study demonstrates potential of DTI to quantify white-matter parameters in young patients with hydrocephalus
CINCINNATI – Ellen Air, MD, PhD, a graduating, sixth-year resident in the Department of Neurosurgery at the University of Cincinnati (UC) College of Medicine, is the 2010 winner of the Ellen and Stewart B. Dunsker, MD, Award for Clinical Research.
Dr. Air, who has a special interest in functional neurosurgery, won the $2,000 annual prize with her paper, "Longitudinal comparison of pre- and postoperative diffusion tensor imaging parameters in young children with hydrocephalus." She received the award during the 2010 graduation ceremonies of the UC Department of Neurosurgery/Mayfield Clinic residency program.
The imaging study, the first of its kind, was published in the April 2010 issue of the Journal of Neurosurgery: Pediatrics. Dr. Air and her colleagues followed 10 patients with hydrocephalus before and after operative treatment, which involved inserting a shunt, and showed that abnormalities that were present in white-matter areas of the brain prior to treatment became normal following surgery.
Dr. Air graduated from the UC's six-year residency program June 4. She will continue her training at the University of California San Francisco, where she will be a fellow in functional neurosurgery. She received her undergraduate degree from Northwestern University and her doctorate and medical degrees from UC.
Co-authors of the award-winning paper are Weihong Yuan, PhD, Scott Holland, PhD, Blaise Jones, MD, Karin Bierbrauer, MD, Mekibib Altaye, PhD, and Francesco Mangano, DO. All are affiliated with Cincinnati Children's Hospital Medical Center.
The annual Dunsker Award seeks to spur clinical research among neurosurgical residents. Dr. Dunsker, Professor Emeritus of Neurosurgery and a retired Mayfield Clinic neurosurgeon, and his wife underwrite the prize, which is given each spring to a resident who has proposed and completed the most compelling clinical research project during the academic year.
"We think residents can make a difference and can begin expanding the knowledge in their field," Dr. Dunsker said before presenting the 2010 award. "To paraphrase Sir Isaac Newton: We see farther because we stand on the shoulders of those who came before us. It's time for you [residents] to stand up and lend your shoulders so that the neurosurgeons coming after you can see farther."
Dr. Dunsker praised Dr. Air's scientific paper for its elegance and eloquence, qualities he said reflected her intellectual rigor and expertise.
"Ellen Air," he said to the audience during graduation ceremonies, "always took the most difficult road and always rose to the top. In the military they say the Navy Seal takes the more difficult road. Well, there's a neurosurgery seal standing in front of you."
Dr. Air's award-winning study was a retrospective examination of 10 children diagnosed with hydrocephalus, a chronic and at times disabling condition that affects an estimated one in 500 children. Hydrocephalus is characterized by an imbalance between the production of cerebrospinal fluid (CSF), a clear fluid that surrounds the brain and spinal cord, and its absorption. Excess CSF in the brain can result in abnormal pressure, compression of white-matter tracts, and other problems.
Diffusion tensor imaging (DTI), which reveals the orientation and magnitude of water diffusion in tissue, provides a map of the critical white-matter tracts, which facilitate electrical connections between different parts of the brain.
In her research, Dr. Air challenged the prevailing diagnostic tool, MR imaging, which she said allowed doctors to detect pathological changes caused by hydrocephalus but not to quantify their severity or the benefits of treatment. By successfully demonstrating that DTI could detect normalizing trends following treatment, Dr. Air and her collaborators raise questions as to whether this diagnostic tool can be used to infer or predict improvements in brain function.
Dr. Dunsker, who retired as Professor of Neurosurgery in 2002 after a 31-year career with the Mayfield Clinic, played a role in developing spinal surgery into a subspecialty of neurosurgery. He was named Ohio Neurosurgeon of the Year in 1992 and received the Harvey Cushing Medal, the highest honor bestowed by the American Association of Neurological Surgeons, in 2003. He remains a familiar figure at department meetings and grand rounds.
Judging the 2010 entrants were Mario Zuccarello, MD, Chairman of the Department of Neurosurgery and a Mayfield Clinic neurosurgeon; Jeffrey Keller, PhD, Director of the Division of Education in the Department of Neurosurgery; Charles Kuntz IV, MD, and Andrew Ringer, MD, both Associate Professors of Neurosurgery and Mayfield Clinic neurosurgeons.
The Mayfield Clinic is recognized as one of the nation's leading physician organizations for clinical care, education, and research of the spine and brain. Supported by 20 neurosurgeons, five neurointensivists, an interventional radiologist, and a pain specialist, the Clinic treats 25,000 patients from 35 states and 13 countries in a typical year. Mayfield's physicians have pioneered surgical procedures and instrumentation that have revolutionized the art of neurosurgery for brain tumors and neurovascular disease.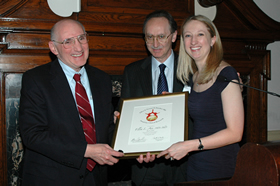 L to R: Dr. Stewart Dunsker, Dr. Mario Zuccarello and award winner Dr. Ellen Air