UC Department of Neurosurgery awarded $1.96 million To study short circuits of brain function following neurotrauma
CINCINNATI—Disturbances in brain activity so silent and subtle that researchers must open the skull to measure them is the focus of a $1.96 million federal grant awarded to researchers at The Neuroscience Institute at the University of Cincinnati (UC) and University Hospital. The grant, awarded by the Department of Defense (DOD), will be paid over a period of four years.
Principal investigator Jed Hartings, PhD, Director of Clinical Monitoring for the Mayfield Clinic and Research Assistant Professor in UC's Department of Neurosurgery, is leading the multi-site study of brain activity called "spreading depression," an electrical phenomenon that occurs in up to 60 percent of patients who have experienced serious trauma to the brain. Researchers want to know why, and under what circumstances, spreading depression occurs, whether it hinders neurological recovery, and whether it should and can be treated.
The topic is of keen interest to the U.S. military because head injuries have emerged as the signature wounds of the wars in Iraq and Afghanistan.

"Spreading depressions are short-circuits, or electrical failures, of the brain's local networks," explains Dr. Hartings. "When these networks fail, brain waves can no longer be generated, and they become dampened, or depressed, in amplitude."
The voltage change is extreme. Hartings likens each brain cell, or neuron, to a battery. When spreading depression occurs, the cell discharges its electricity completely. "The neuron, once alive with electrical activity, stops working and has to be resuscitated with glucose and oxygen," Dr. Hartings says. "You could also liken it to a battery in your car. If it drains, then the car doesn't work."
Because networks of the brain's cortex are connected in a continuum, a depression triggered by an injury will spread across the cortex like a ripple in a pond. The ripple of short-circuiting cells travels almost imperceptibly, at a speed of 1 to 5 millimeters per minute.
To measure this faint disturbance, Dr. Hartings and fellow researchers will place a linear strip of electrodes on the surface of the brain, near the injured area, during neurosurgery at Cincinnati's University Hospital. Only patients who require neurosurgery to treat their injuries can be enrolled in the study. The electrode strip records computerized brainwaves similar to those of an electroencephalogram (EEG). But whereas EEG electrodes are placed on the scalp, spreading depression electrodes must be placed inside the skull, on the surface of the brain. The electrodes are removed three to seven days after implantation, without additional surgery.
"We have found that these waves can occur repeatedly for over a week following neurotrauma, with detrimental effects that are, possibly, even worse than those caused by brain seizures," Dr. Hartings says.
The grant is being issued through the DOD's Psychological Health and Traumatic Brain Injury (PH/TBI) Research Program (formerly known as the Post Traumatic Stress Disorder/TBI Research Program). Dr. Hartings's co-investigators at UC are Raj Narayan, MD, Chair of the Department of Neurosurgery, and Lori Shutter, MD, Director of Neurocritical Care.
In a separate development earlier this year, UC was named to the DOD's clinical consortium of PH/TBI study sites, earning a $2.4 million award over five years for infrastructure and personnel. That award becomes effective this month.

Also participating in the spreading depression study are the University of Miami, University of Pittsburgh, Virginia Commonwealth University and King's College Hospital in London.
The spreading depression study is in its earliest phase. Forty patients have been enrolled at three sites, and 200 additional patients will be studied over the next four years. UC will begin enrolling patients in early 2009.Patients in the study will not be U.S. soldiers, but rather individuals who have suffered brain injury through falls, vehicular accidents, or other misfortunes.
The current study is observational, with researchers trying to determine whether spreading depressions cause a negative effect on neurological recovery. "We're trying first to determine its clinical relevance and role in brain trauma, Dr. Hartings says.
Researchers will try to connect the development or absence of spreading depression to medical procedures and changes in the patient's status. For example, Dr. Hartings notes that when patients have a fever following a brain injury, they tend to have many spreading depressions. "We know that fever is bad for outcomes and should be avoided," he says. "Is this because a fever is causing spreading depressions? That is a question we hope to answer."
If spreading depressions are found to hinder recovery, Dr. Hartings says, the next step is to design clinical trials to try to stop them and to improve outcomes. "Our ultimate goal would be to identify better medical practices – or perhaps an anticonvulsant drug -- to stop the spreading depressions."
The UC Neuroscience Institute, a regional center of excellence, is dedicated to patient care, research, education, and the development of new treatments for stroke, brain and spinal tumors, epilepsy, multiple sclerosis, traumatic brain and spinal injury, Alzheimer's disease, Parkinson's disease, disorders of the senses (swallowing, voice, hearing, pain, taste and smell), and psychiatric conditions (bipolar disorder, schizophrenia and depression).
The Mayfield Clinic is recognized as one of the nation's leading physician organizations for clinical care, education, and research of the spine and brain. With 20 neurosurgeons and two neurointensivists, Mayfield treats 25,000 patients from 35 states and 13 countries in a typical year. Mayfield's physicians have pioneered surgical procedures and instrumentation that have revolutionized the medical art of neurosurgery for brain tumors and neurovascular diseases and disorders.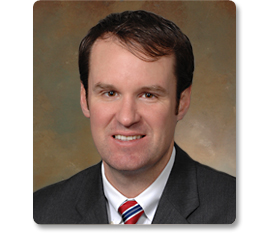 Jed Hartings, PhD

---