Barbara's story
Spinal reconstruction
Barbara advocates for surgery to rebuild her spine
Barbara was never afraid of surgery.
Through multiple treatments of all different shapes and sizes during a three-year period, the 80-year-old resident of Cincinnati's northern suburbs became convinced she needed an operation to relieve her intractable back pain. She went through multiple rounds of physical therapy and pain injections. She tried spinal cord stimulation and ablation, both procedures that block pain signals sent to the brain. None of the treatment provided lasting relief.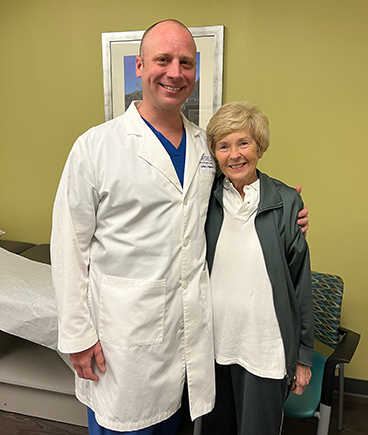 Barbara, with Dr. Tempel
Then in late 2021, Barbara visited Dr. Zachary Tempel, a neurosurgeon at Mayfield Brain & Spine and part of Mayfield's spinal deformity and scoliosis team. After a lengthy consultation, Dr. Tempel ordered a diagnostic imaging test called a myelogram that uses a contrast dye to identify problems in the spinal canal. The images revealed severe curvature of the spine, or kyphoscoliosis, as well as degeneration through multiple levels of Barbara's lumbar spine.
Given Barbara's age and the complexity of the potential surgery, she went through every option for conservative treatment with multiple physicians at Mayfield, which offers comprehensive services for patients with the entire range of back pain. Through it all, she felt that her medical journey eventually would lead to surgery.
"Dr. Tempel explained the risks of surgery to me," Barbara recalled. "I wasn't scared. I wanted them to do it that day."
In April 2022, Dr. Tempel and the surgical team straightened, strengthened and reconstructed Barbara's spine, starting at the T-9 vertebrae in the middle of her back all the way down to the sacrum, the bony structure at the base that is connected to the pelvis.
Before-and-after X-rays show the straightening of the curve in Barbara's spine.
3D CT of the T9-S2 fusion cage, rods and screws.
"This kind of complex spinal surgery has the best chance for success when the patient, the patient's family, the surgeon and the medical team share a vision of how the diagnosis, treatment and recovery will lead to a better quality of life," Dr. Tempel said. "Barbara had tried multiple forms of conservative treatment, so we believed she was an appropriate candidate for surgery. She was confident in the diagnosis and has worked hard to recover – always the best recipe for a good outcome."
Dr. Tempel said patients can spend months preparing for spinal deformity surgery. Improving your bone health and general physical condition can help limit recovery time and avoid complications. Full recovery can take six months to a year, emphasizing the importance of a home care plan and support from family or loved ones. The operation itself often is done in phases over several days. Dr. Tempel tries to balance the risks with the potential benefits – demonstrated when patients nearly disabled by pain walk into his office or get back to the things they love doing.
"This is why we become doctors, to help people get back to doing the things they love to do," Dr. Tempel added. "Barbara is a terrific example of the entire team working together for a positive outcome."
Only weeks after the surgery, Barbara was moving around, and within six months showed significant improvement compared to her pre-surgery condition. Now approaching a year out of surgery, Barbara says she is "100 percent better."
"Before, I couldn't even blow dry my hair standing up," she said. "I couldn't go to the store without practically collapsing. But I went shopping the other day, and I was amazed. I'm a little bit taller, and I don't hurt anymore."
---
Hope Story Disclaimer -"Barbara's story" is about one patient's health-care experience. Please bear in mind that because every patient is unique, individual patients may respond to treatment in different ways. Results are influenced by many factors and may vary from patient to patient.
---
Related links
Physician spotlight: Dr. Zachary Tempel
---
Dr. Zachary Tempel, discusses the surgical management of adult spinal deformity and scoliosis.